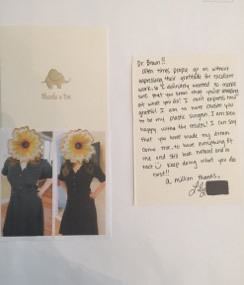 "Often times people go on without expressing their gratitude for excellent work, so I definitely wanted to make sure you know that you're amazing at what you do! I can't express how grateful I am to have chosen you to be my plastic surgeon. I am sooo happy with the results! I can say that you have made my dream come true, to have everything fit me and still look natural and intact. Keep doing what you do bets! A million thanks!" –Lily
---
"Thank you very much for a superb job on my mom, and most importantly, for coming to the hospital late at night to see my mom for a post-op check. She is extremely pleased with your care, service, and personal attention. You made me look good by recommending you to her. Thank you." –Reza
---
"Your professionalism and caring nature for your patients is a gift. I'm grateful you're helping me "regain" myself. Your staff is class 'A'!"
---
"Just wanted to say thank you so much- I came in on Monday and you removed a cyst on my left cheek. I performed the National Anthem on Saturday at the Nuggets and no one could even tell I had a scar or anything. It's so tiny already, so I really appreciate your great work!" –Austin
---
"I am so pleased with the outcome! Time for swimsuit season. I look forward to sending folks your way!"
---
"Thank you for fixing my chin. It feels a lot better. You are a great doctor! Thank you for helping me" –Charlie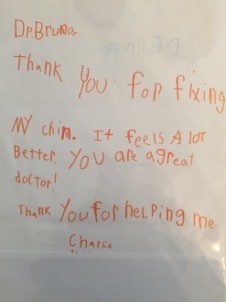 ---
"You need to know that what you do makes a profound difference in a person's life. I will never be able to adequately express my gratitude for what you have done for me. Rest assured that I am and will always be eternally grateful for the difference you have made in my life. From my heart, I thank you."
---
"Great job! I am so pleased with the results of Friday's procedure. I'm feeling great and back to a somewhat normal life. Thank you!" -Karen
---
"Thank you so much for helping me to look and feel normal! Eternally grateful." –Stephanie
---
"May your heart be touched by the joys of the season, as greatly as you touched our lives, forever. Thank you, for you, we have another Christmas because of you."
---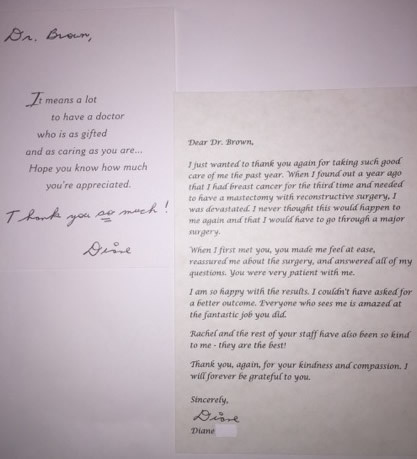 "I just wanted to thank you again for taking such good care of me the past year. When I found out a year ago that I had breast cancer for the third time and needed to have a mastectomy with reconstructive surgery, I was devastated. I never thought this would happen to me again and that I would have to go through a major surgery.
When I first met you, you made me feel at ease. Reassured me about the surgery and answered all of my questions. You were very patient with me.
I am so happy with the results. I couldn't have asked for a better outcome. Everyone who sees me is amazed at the fantastic job you did.
Rachel and the rest of your staff have also been so kind to me- they are the best!
Thank you, again, for your kindness and compassion. I will be forever grateful to you."
– Diane