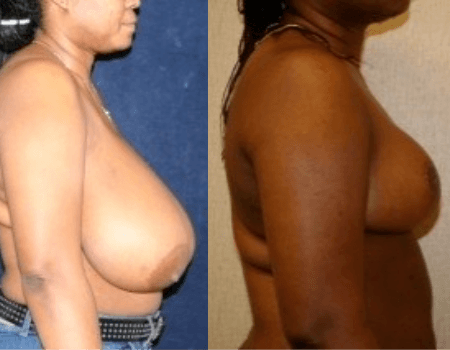 The breast reduction procedure is a great option for women who have overly large breasts that they wish to reduce in size. Oversized breasts can lead to back and neck pain, difficulty with physical activity, and leave women with trouble finding clothes to fit. Aside from the physical restrictions of large breasts, they can cause emotional pain and lead to a lack of self-confidence. If you're curious about a breast reduction and want to know more, we're here to help.
You can combine this procedure with others– Many patients wish to undergo other procedures such as a tummy tuck while they're here. This is relatively common and if you're curious about other procedures we can talk through options.
This procedure can help reduce neck and back pain– Oversize breasts can lead to back and neck pain from pulling you down and make it difficult for you to participate in certain physical activities. By reducing the size of your breast you may experience increased mobility and a decrease in stress on your back and neck.
Your insurance may cover the cost– In some cases, patients are able to have the procedure completed for medical reasons in which case their insurance may cover some or all of the cost of a breast reduction. Inquire with your insurance company for specifics.
What to expect during your DC breast reduction consultation
During your consultation, we'll listen to you and learn more about your goals, lifestyle, and reasons for wanting the procedure. We want to ensure that this is the best possible procedure for you and that we can help you achieve your goals so you can move forward feeling confident and empowered.
We'll go through your questions about the procedure, recovery process, and any additional procedures that may help you achieve your body goals. We're here to support you through the entire process and our doctors will always keep your happiness and safety top of mind.
To schedule a consultation with one of our experienced plastic surgeons and learn if a breast reduction in DC is right for you call 301-215-5955 or click here.