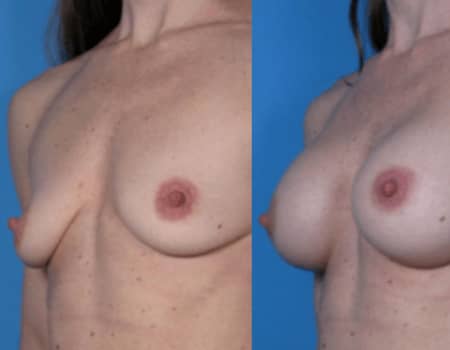 The breast augmentation procedure is incredibly common and chances are you know someone who has undergone the procedure. There are several reasons patients opt for a breast augmentation and whether you're looking to make a slight or significant change we can talk through your options in your consultation.
You want larger breasts– Perhaps the most common reason, many patients wish to achieve larger breasts through an augmentation.
Your breasts are asymmetrical– Many women have asymmetrical breasts with varying severity. A breast augmentation can give you the symmetrical breasts you desire.
You want your breasts to match your body– Some women are born with naturally smaller breasts and may simply want their breasts to match the rest of their body. A breast augmentation can be used to make your breast slightly larger, much larger, or simply offer your body more balanced proportions.
You want more breast volume– After pregnancy, weight loss, or aging you may notice your breasts aren't as full as they once were. A breast augmentation can help you achieve the full and voluptuous chest you once had.
If one or more of these reasons applies to you and you want to learn more about your breast augmentation options, give us a call to schedule a consultation.
Highly rated plastic surgeons in DC who can help you with your breast augmentation goals
Our plastic surgeons are highly trained and perform technically advanced procedures to help patients achieve their goals. During your consultation, we'll walk through the different types of implants as well as fat-grafting breast augmentation options. We'll help you determine the procedure that's best for you and answer any questions you have along the way.
To schedule a consultation with one of our top DC plastic surgeons for your breast augmentation in DC call 301-215-5955 or click here.