At Bruno | Brown Plastic Surgery we work to provide the best care for our patients looking to get breast augmentation surgery in the Washington DC area. We know this can be a nerve-wracking process, so we aim to provide you with the best resources and support to create a welcoming environment.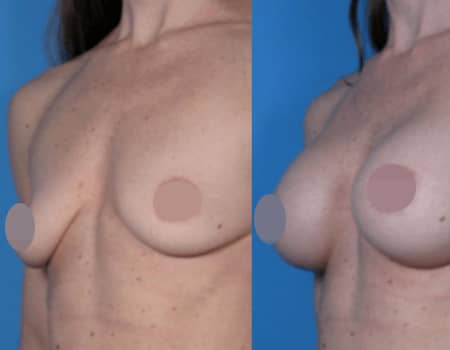 Breast augmentation provides women with an enhanced figure by resizing and reshaping the breast to achieve a fuller look that can help patients feel happier and more confident. 
At Bruno | Brown Plastic Surgery we understand that every patient is different and has different expectations. That's why we work to provide a holistic approach to achieving your goals and or desired look.
During your consultation, we will work closely with you to determine whether a breast implant or fat grafting can best help you achieve the ideal shape and size of your breast
When coming into Bruno | Brown Plastic Surgery, we aim to answer any and all questions you may have during your consultation. Here are some of the considerations we will discuss during your consultation:
Discussing getting implants vs. fat grafting

Discussing the type of implant materials (saline or silicone)

Discussing the implant size you may want

Discussing the implant profile

Discussing your implant placement ( which can be above or below pectoral muscle)

Discussing your personal lifestyle and activity levels

Discussing your skin elasticity
You may expect a recovery time between 1-2 weeks, after a surgery time between 1-2 hours depending on circumstance. There are usually no overnight stays required as well. Our doctors are specialists in helping DC area patients achieve their desired appearance with breast augmentation. Discuss what breast augmentation can do to help you attain the body you've always wanted, during your consultation.
Additionally, many women choose to combine this with other procedures, so they can recover from their procedures all at once. Often this can be combined with a tummy tuck, liposuction, or part of a 'mommy makeover' to help women restore their pre-pregnancy bodies.
We work with you to create the best plan of action that makes you feel comfortable, listened to, and confident in your desired results.
While prepping for your breast augmentation procedure, your surgeon will take the time to conduct a comprehensive health assessment. They will also prepare you for what you can expect during, after, and in recovery for your breast augmentation procedure. We aim to provide you with information and answer any questions you may have regarding the procedure process or surgery in general.
For your procedure, either silicone, Ideal implants, fat, or saline can be used to reshape and contour your breasts. The incisions can be made either around your areola, below your breast, or in the underarm to achieve the desired shape, size, and lift you want.
As mentioned before, the procedure usually takes between 1-2 hours. After your surgery, patients are discharged from our clinic the very same day and move into the recovery period of your breast augmentation surgery. During this process, you should be resting and recuperating from your augmentation.
After the surgery is completed, you will get a supportive surgical bra. This can help with swelling. The recovery time for this procedure is usually between 1-2 weeks. This can vary depending on the individual and how you are healing. Most patients can return to their regular activity schedule after around a week, and they are able to exercise after they have fully healed.
Each person is going to heal differently. Most incisions are placed to ensure minimalization and placed to be well hidden. As the patient recovers, the swelling you may experience, along with scares, will reduce and continue to fade with time.
Finding a plastic surgeon that is right for you, is a critical part of the cosmetic surgery process. At Bruno | Brown Plastic Surgery, our seasoned doctors have decades of professional experience. The practice aims to make every patient feel beautiful and confident.
We aim to use the most innovative practices, to assist our patients in feeling and looking their best. We want you to feel safe and well taken care of. We encourage our patients to check out our resources and FAQs posted on this site.
This is why Bruno | Brown Plastic Surgery understands the difficultly of choosing to receive plastic and cosmetic surgery. The process is a personal, private, and sometimes life-altering decision. At our practice, we are committed to providing technically advanced, cutting-edge procedures, that use sound surgical principles to create safe and effective results for all of our patients.
You can find our three various offices located in Chevy Chase, MD, Tyson Corner, VA, and Glen Burnie, MD. When visiting our Chevy Chase location, you will find a state-of-the-art operating room, with private consultations in a wonderful office setting, with our board-certified- anesthesiologists.
Our doctors at Bruno | Brown Plastic Surgery also have hospital privileges at Sibley Memorial Hospital, Suburban Hospital, INOVA Fairfax, Loudoun, and Fair Oaks Hospitals, and Baltimore Washington Medical Center. This allows for procedures to be performed at a range of well-respected accredited medical facilities. Dr. Bruno and Dr. Brown are some of the best plastic surgeons in the DC area, often recognized for their achievements.
Dr. Bruno has been recognized by the Consumers Research Council of America as one of America's Top Plastic Surgeons and has been peer-voted as one of the Top Doctors by Washingtonian Magazine for breast reconstructive plastic surgery.
Dr. Bruno has several certifications and membership that showcase his expertise, these include:
American Board of Plastic Surgery, Certification

American Board of Oral and Maxillofacial Surgery, Certification

American Academy of Oral and Maxillofacial Pathology, Member

National Capital Society of Plastic Surgeons, Member

American Academy of Cosmetic Surgery, Member

American Society of Plastic Surgeons, Member

Executive Committee of the Medical Staff at Sibley Memorial Hospital, Member
Dr. Brown has been featured in national and local publications such as The New York Times, Capitol File, DC Modern Luxury, Baltimore Magazine, What's Up Annapolis, and the Washingtonian. Dr. Brown was featured in articles as well as voted one of Washingtonian Magazine's Top Doctors.
Dr. Brown has many certifications and memberships that showcase his expertise, including:
Chief of Plastic Surgery at Sibley Memorial Hospital

American Board of Plastic Surgery, Certification

American Society of Plastic Surgeons, Member

National Capital Society of Plastic Surgeons, Member and Past President

American College of Surgeons, Fellow

Cleveland Clinic Foundation, Adjunct Faculty
Benefits Of A DC Breast Augmentation
There are many benefits to this procedure. For example, you can enhance the overall shape and size of your breasts, return the breast volume you had before after aging, pregnancy, and or weight loss, reshape cleavage, increase cleavage, and also increase your breast symmetry.
If you are unsure if you qualify for breast augmentation and or breast implants, you can review our candidate suggestions. Breast implants may be an option for you if you are at least 18 years of age, are unhappy with the appearance of your breasts, have noticed some changes in their appearance, and/or are not currently pregnant or nursing.
Keeping this in mind, we aim to provide the best answer to all of your procedure and or breast augmentation journey questions. We have precious images and expertise to provide you with all the information we can regarding the process.
We interviewed a Bruno | Brown patient who recently underwent a breast augmentation procedure with us. They expressed the following sentiments about their journey, experience with the practice, and results.
Why choose Bruno | Brown Plastic Surgery?
"I chose them because my OBGYN recommended them. Then, after I did extensive research, (and I'm one that only goes to the best doctors), I saw that the doctors at Bruno | Brown Plastic Surgery had been well vetted and featured as one of the Top Doctors in DC in Washingtonian Magazine. Just reading up on Dr. Brown and his background I felt really good about him on paper. Then the test was going to be his bedside manner, and I absolutely adored him. He was great to talk to, he was very calm, informative, and I felt very comfortable."
Why decide to have breast augmentation?
"Since I was already under for the tummy tuck I thought why don't we just go ahead and do the breast augmentation. I said I was happy with the size of my breasts, I just wanted them to look fuller. He gave me his honest opinion about what to do, what they'd look like, he listened and made sure we were on the same page so I knew what I was getting."
What were your main goals in getting breast augmentation?
"I was very satisfied, still to this day with the results. The recovery time was a little long, but they told me I'd be fine by a certain number of weeks and I said I didn't know, I was in a lot of pain. But sure enough at that time, right on the dot, I felt better. He knows what he's doing. Everything was done top-level, even down to the payments. To the people I have told about my procedure I've said if you ever need anything done, you need to go to Bruno | Brown Plastic Surgery."
To schedule your consultation with a doctor for a Breast Augmentation in DC, call Bruno | Brown Plastic Surgery at 301-215-5955