Looking for top board-certified plastic surgeons in the Washington D.C. area? Bruno | Brown Plastic Surgery has you covered with top-rated professionals and state-of-the-art technical care.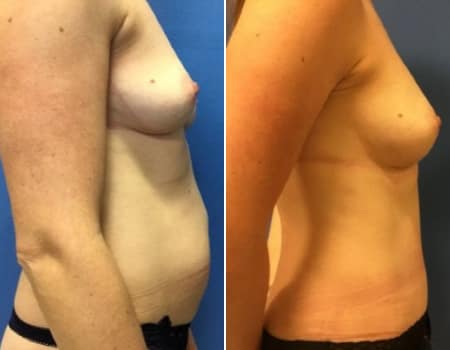 Children are a blessing. However, children not only bless our lives but "bless" our bodies as well. One many have saggy breasts, lax abdominal muscles, and a body shape that may make one feel less than desirable. A mommy makeover can aim to restore your body to its pre-baby status by lifting one's breasts, shrinking your waistline, and more.
Bruno | Brown Plastic Surgery offers the mommy makeover in the Washington D.C., Maryland, and Nothern Virginia area to assist in rejuvenating one's body and helping work to restore one's pre-pregnancy figure.
This is a highly sought-after cosmetic surgery that aims to reverse some of the more undesirable physical effects of bearing a child. This is done by a combination of aesthetic goals. During the consultation, our doctors will work with you to help develop a personal plan to outline the combination of procedures that may best fit your needs.
Our expert plastic surgeons have decades of experience in safe and effective procedures. Risks that are associated with the surgery are greatly minimized when you choose a qualified plastic surgeon whose number one priority is your safety and satisfaction.
During your consultation with one of the doctors such as Dr. Bruno or Dr. Brown, we may discuss the following:
Rejuvenation of the abdomen
Liposuction
Breast lift
Breast enhancement
Body contouring techniques
Lifestyle and activity levels
Finding the perfect plastic surgeon for you and your mommy makeover surgery is critical. Our doctors have decades of experience, are board-certified plastic surgeons, and work to make sure that each and every patient feels beautiful and confident with the latest, most innovative practices.
DC Mommy Makeover Procedure
Each procedure is unique because each mommy makeover is unique and depends on the exact procedures to be done. They typically involve a tummy tuck, liposuction, and a breast enhancement or lift. All of these can be done at once, so you're back to everyday life quicker.
During your consultation, we'll outline each procedure that is going to be done and answer any questions you have.
In a mommy makeover, you can have several different procedures. These can include procedures such as tummy tucks, breast augmentations, liposuctions, breast enhancements, etc.
At Bruno | Brown Plastic Surgery we offer a variety of other procedures as well that may not be related to a mommy makeover. This can include facelifts, rhinoplasties, breast reductions, breast implants, breast augmentations with fat grafting, labiaplasties, and more.
Benefits of Mommy Makeover, Washington DC
The benefits of a mommy makeover are as followed:
Removes excess, loose, or hanging skin, which may be the result of weight loss or pregnancy
Lifts and enhances the breasts
Reduces the appearance of stretch marks, particularly after pregnancy
Increases confidence and self-image
Being a mother is a full-time job, and it's hard to put a pause on life. The mommy makeover has a relatively short recovery time of 2-3 weeks. We try to get you back on your feet as soon as possible following the procedure.
Before you decided it's time for a mommy makeover, there are a few questions one should ask themselves. The top two questions to ask are: Are you finished having children? Are you still currently breastfeeding?
It's important to ask these questions as mommy makeovers usually include breast lifts and tummy tucks which can complicate breastfeeding and or pregnancy.
Additionally, if you are more than 10 – 15 pounds from your goal weight, you may want to wait. This is due to any additional sagging weight loss may cause. On the short end, you could have your surgery within a few months. However, most patients are in the 6-12 month time frame following the birth of a child.
If you are interested in a DC Mommy Makeover, call (301) 215-5955 to schedule your consultation.