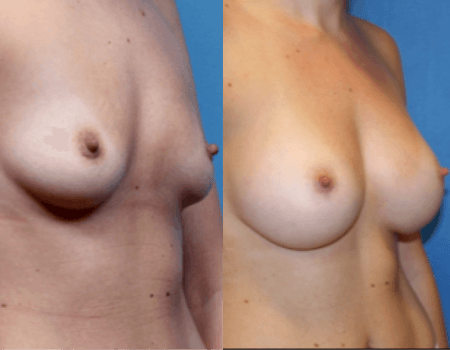 Thousands of women choose breast implants each year to achieve their breast goals. In fact, 313,000 people opted for breast implants in 2018 alone according to the American Society of Plastic Surgeons. Breast implants are a great option for women who wish to increase their breast size, improve their breast symmetry, and achieve the breasts they've always wanted.
"My experience with Dr. Bruno was excellent from my initial consultation through my post-surgery care. Dr. Bruno is very kind and considerate, and his staff are wonderful. He was honest and knowledgeable, and he always listened to every question I had. I was extremely comfortable with him and the care I received from them was outstanding. I would definitively recommend Dr. Bruno to friends and family."

-Katia, Google Review
Breast implants can provide more than just a physical change. Many patients struggle mentally when their body isn't quite how they would like it to be. For many women, breast implants can be a life-changing decision that allows them to achieve the appearance they want on the outside while giving them a boost in confidence throughout the process.
There are several benefits to breast implants, which can include:
Increased symmetry in the breasts
Improved projection of the breasts
Increased cleavage
Improved breast volume due to aging or following pregnancy or weight loss
Increased confidence
The doctors at Bruno | Brown use three different types of implants:
Saline Implants
Silicone Implants
Ideal Implants
During your consultation, we can discuss your goals for your breasts and the best way to achieve them. Different implants can achieve different results and we can use your goals as a way to make a decision on an implant type that's best for your specific case. Our District of Columbia doctors are committed to providing the best possible result for you. We perform top-of-the-line technically advanced procedures and always value the safety of our patients above all else.
To schedule your consultation with one of the top-rated DC plastic surgeons at Bruno | Brown to discuss your Washington, DC breast implant options call (301) 215-5955 or click here.