Are you considering breast implants but looking for more information before you make a decision? The experienced plastic surgeons at Bruno | Brown Plastic Surgery are here to help you determine if the procedure is right for you.
I did a lot of research, and had multiple consults before ultimately choosing to move forward with my breast augmentation with Dr. Bruno. Of the multiple plastic surgeons I vetted, Bruno/Brown was by far the most articulate, thorough, professional and kind clinics. With any plastic surgery/operation, there is always a level of anxiety, because it is a big life decision, but they were able to put me at ease throughout the entire process. Their follow through has been equally impressive – Dr. Bruno called me the evening of my surgery to check on me, and his office called me the following morning to check on me as well. I cannot say enough good things about them, and would recommend them 10X over. 

-Google Review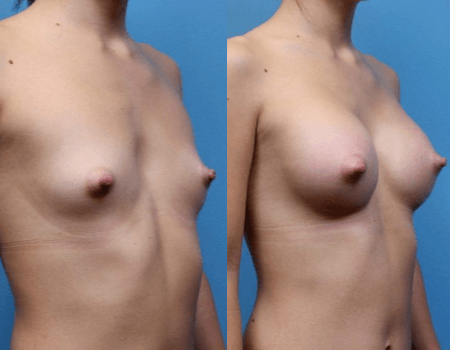 Breast implants can be used to increase the size of your breasts, restore fullness lost due to aging or weight loss, and offer more symmetry, among many other benefits.
There are several types of breast implants, including:
Ideal Breast Implants: Ideal Implants are saline implants that provide a natural feel and youthful look without using silicone gel by using a series of implant shells nested together and two separate chambers that hold the saline.
Saline Breast Implants: The shell is filled with saline to your preferred volume, increasing the shape and size of your breasts with a firmer feel.
Silicone Breast Implants: A silicone shell is filled to your desired volume and offers a more natural feel.
During your consultation, we'll go through each type of implant to help you decide which is best for you. We'll talk about your goals for your breast augmentation surgery, the size and shape you're trying to achieve, your activity levels and lifestyle, and any other goals you're hoping to achieve.
Following your procedure, we will provide you with a supportive surgical bra to help control swelling. The average recovery time for most patients is between 1-2 weeks. It can vary depending on how the individual heals, but most can return to regular activity after a week and exercise after they're fully healed.
Bruno Brown Plastic Surgery is the most professional and friendly office I have been to! The staff there are amazing. You call or walk through the door and you feel like family!

Dr. Brown is a one-of-a-kind, top-notch, professional, and honest plastic surgeon! The facility is clean and well organized which puts me at ease!

I couldn't have chosen a better practice for anything I need! I highly recommend Bruno Brown Plastic Surgery to anyone!

-Google Review
To schedule a consultation with one of our plastic surgeons and learn more about how breast augmentation in Bethesda can help you achieve your goals call 301-215-5955 or reach out online.