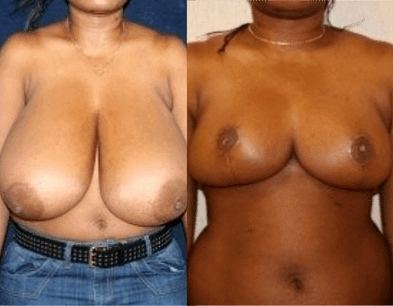 Many women suffer from breasts that are too large for their bodies, limit their ability to be active, and cause pain over time. A breast reduction can remove excess breast tissue improving your quality of life and boost your confidence.
You want to improve the appearance of your breasts and make them more proportionate to your body.
Your breasts have caused pain in your neck and back.
You want to improve your confidence with smaller breasts.
You wish to be more physically active, which can be achieved through a reduction in the size of your breasts.
If your breast reduction is required for a medical reason, your insurance may cover the cost of the procedure.
Your doctor will confirm you're a good candidate for a breast reduction prior to surgery to ensure a good result. Candidates for the surgery have overdeveloped breasts, back or neck pain, breasts that interfere with everyday activities, have trouble finding clothes that fit, and/or have bad posture as a result of the weight of their breasts.
It's important to set your expectations appropriately. Your doctor will discuss your goals with you and what you can expect as a result of surgery. The surgery can correct most, or all of your breast-related issues and even make your breasts more symmetrical, giving you a boost in confidence.
Why you should choose a top-rated plastic surgeon for your DC breast reduction
A breast reduction can have varying levels of surgery required to achieve your desired look. The doctors at Bruno | Brown Plastic Surgery are dedicated to providing high-quality results and ensuring patient safety throughout the procedure and during recovery. Your doctor will explain what will need to be done to achieve the look you want and the recovery process you can expect, which is typically around 2-3 weeks.
Call us today at 301-215-5955 or reach out online to schedule your consultation for a breast reduction in DC.