The Bruno | Brown Plastic Surgery team is comprised of highly skilled and experienced plastic surgeons committed to providing our patients with the best possible results for all your cosmetic surgery in Bethesda.
Types of Cosmetic Surgery in Bethesda, MD
Bruno | Brown Plastic Surgery offers over 27 different cosmetic surgeries. You have covered everything from surgical to nonsurgical, Bruno | Brown Plastic Surgery. We provide…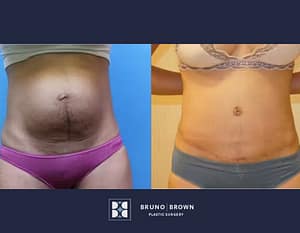 Arm/Thigh Lift
Breast Augmentation
Breast Lift
Breast Reduction
Mommy Makeover
Tummy Tuck
Liposuction
Brazilian Butt Lift
PRP Injections
Botox
Dermal Fillers
And MORE!
To learn more about our skilled physicians at Bruno | Brown Plastic Surgery, make sure you meet our team.
Initial consultation
Getting cosmetic surgery can be intimidating, but knowing what to expect will look like may help relieve some anxiety. Before you start your cosmetic surgery process, you will meet with your board-certified plastic surgeons. With your surgeons, you determine an individualized surgery plan and get an overview of what that will look like.
Are you interested in learning more about cosmetic surgery in Bethesda, MD? Book a consultation now!
What our patients say:
I did a lot of research, and had multiple consults before ultimately choosing to move forward with my breast augmentation with Dr. Bruno. Of the multiple plastic surgeons I vetted, Bruno/Brown was by far the most articulate, thorough, professional and kind clinics. With any plastic surgery/operation, there is always a level of anxiety, because it is a big life decision, but they were able to put me at ease throughout the entire process. Their follow through has been equally impressive – Dr. Bruno called me the evening of my surgery to check on me, and his office called me the following morning to check on me as well. I cannot say enough good things about them, and would recommend them 10X over.