Double Chin Liposuction for a Snatched Jawline
You've tried the gua sha and facial massages, diet, and exercise, but that pesky double chin just won't go away. If you struggle with excess skin under the neck (the submental region) then liposuction could be an option for you.
This procedure can be done under a local anesthetic or a general anesthetic; it is up to the patient.
The doctors administer numbing medicine through the area and then the fat is removed through suction utilizing a thin metal tube, or cannula. In order to achieve a nice, defined jawline, the unwanted fat is removed along the side of the jawline as well as the chin.
Double chin lipo (aka "Submental Liposuction") only takes a few hours, patients do not need to stay in the hospital overnight, and recovery is only three to five days.
The fat removal is permanent, provided people maintain a healthy diet and exercise regimen following their procedure. Additionally, it is normal to experience swelling and fluid retention immediately after surgery, but this normally subsides quickly. Having specific goals in mind for your body contouring procedure is also extremely important.
If you need help outlining these goals, Dr. Bruno and Dr. Brown are happy to work with you to maximize your liposuction results and increase your self-image post-operation.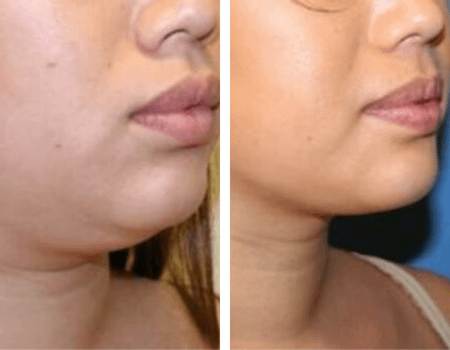 Am I a Good Candidate for Chin Liposuction?
Determining if you are a good candidate for chin lipo means your body and your goals align with the guidelines Drs. Bruno and Bruno express:
You are in good health
You don't smoke (or are prepared to quit smoking) around the procedure and recovery
You have good muscle tone and firm elastic skin
You are within 30% of your target weight
You have at least one area of fat to be removed
You have realistic expectations for your desired figure
Our board-certified plastic surgeons at Bruno | Brown Plastic Surgery prioritize their patient's safety above all else and will ensure it is safe to go ahead with any procedure before surgery.
Chin Liposuction Alternatives
Kybella is an alternative procedure to getting chin liposuction done. Kybella is a non-invasive treatment that contours the chin for a more defined jawline. The treatment reduces excess fat by destroying fat cells so they can no longer store additional matter. This gives a noticeable reduction in fullness under the chin, removing the double chin.
If you are looking to remove chin fat but are unsure about which treatment is right for you, our office can provide expert analysis to help you make the right decision.
To schedule a consultation for a chin liposuction procedure, please call 301-215-5955 or contact us here.