When deciding to get plastic surgery, can be a daunting, scary, and unnerving decision. That's why at Bruno | Brown Plastic Surgery, we aim to provide step-by-step care, leaving all questions answered and providing top-quality care.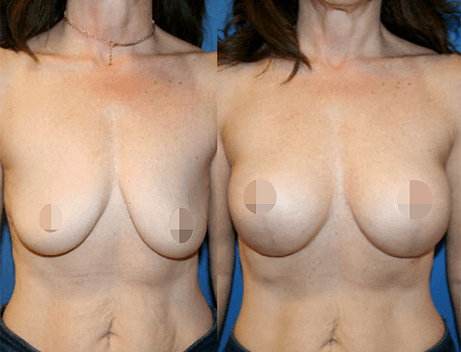 Every individual is going to be different, that's why our approach at Bruno | Brown is holistic. In order to achieve your desired look, during your consultation we will work closely with you to find out whether or not a breast implant or fat grafting will be the best route to find the ideal size and shape of your breast.
From the start of your consultation all the way to the healing process, we are going to be with you every step of the way. At your consultation, you will get to know how specialized our doctors are in helping DC area patients find their desired appearance for their breast augmentation.
At the consultation, you may talk about what a breast augmentation can do to help you obtain the body you may have always wanted.
To prepare for your breast augmentation procedure, the surgeon will use the time to conduct a comprehensive health assessment, along with preparation about the procedure in general, post-procedure care, and of course answer any additional questions or concerns you may have.
While receiving the procedure the type of implant you have chosen, either silicone, saline, Ideal implants, or fat, are then used to reshape and contour your breasts. Breast augmentation incisions are made either around the areola, below the breast, or in the underarm. This helps achieve the desired shape, size, and lift of your breasts.
The procedure usually takes between 1-2 hours.
After your procedure is completed, patients are typically discharged the same day. The recovery period will require lots of rest and recuperation. The recuperation can take between 1-2 weeks and the doctor will discuss specific post-procedure steps for you to follow.
There are four different ways we may achieve the breast augmentation results you may desire. This can include options such as fat grafting, saline breast implants, silicone breast implants, and ideal implants.
Each type of implant you see will have specifically unique benefits and results. In order to figure out the best way to find the right breast augmentation procedure for you, is by discussing your goals, appearance desires, and lifestyle with your team and physicians.
You may be considered a candidate for breast implants if you are at least 18 years of age, are unhappy with the appearance of your breasts, have seen some changes in your breast's appearance due to aging, pregnancy, and or weight loss, and or not currently pregnant or nursing.
Dr. Bruno and Dr. Brown are highly skilled and accredited plastic surgeons, board-certified in their profession.
Dr. Bruno has been recognized by the Consumers Research Council of America as one of America's Top Plastic Surgeons and has been peer-voted as one of the Top Doctors by Washingtonian Magazine for breast reconstructive plastic surgery.
Dr. Bruno's certifications and memberships can include:
American Board of Plastic Surgery, Certification

American Board of Oral and Maxillofacial Surgery, Certification

American Academy of Oral and Maxillofacial Pathology, Member

National Capital Society of Plastic Surgeons, Member

American Academy of Cosmetic Surgery, Member

American Society of Plastic Surgeons, Member

Executive Committee of the Medical Staff at Sibley Memorial Hospital, Member
Dr. Brown has been featured in national and local publications across the nation. These can include publications such as The New York Times, Capitol File, DC Modern Luxury, Baltimore Magazine, What's Up Annapolis, and the Washingtonian. Here Dr. Brown was featured in articles, as well as voted one of Washingtonian Magazine's Top Doctors.
Dr. Brown's certifications and memberships can include:
Chief of Plastic Surgery at Sibley Memorial Hospital

American Board of Plastic Surgery, Certification

American Society of Plastic Surgeons, Member

National Capital Society of Plastic Surgeons, Member and Past President

American College of Surgeons, Fellow

Cleveland Clinic Foundation, Adjunct Faculty
Breast Augmentation Surgery Testimonials, DC
Knowing who to trust to complete your breast augmentation surgery is crucial. We are lucky enough to have wonderful patients that have written us some exceptional reviews.
We even interviewed a patient who underwent a breast augmentation procedure, as she shared her experience with us about her surgery.
Our patient revealed why she chose Bruno | Brown Plastic Surgery:
"I chose them because my OBGYN recommended them. Then, after I did extensive research, (and I'm one that only goes to the best doctors), I saw that the doctors at Bruno | Brown Plastic Surgery had been well vetted and featured as one of the Top Doctors in DC in Washingtonian Magazine."
"Just reading up on Dr. Brown and his background I felt really good about him on paper. Then the test was going to be his bedside manner, and I absolutely adored him. He was great to talk to, he was very calm, informative, and I felt very comfortable."
The patient let us know one thing she would tell others when searching/considering the procedure:
"Do your research. If you're going to Bruno | Brown, you're good. But if you're considering other doctors, do your research. Look at before and after pictures.
Really talk to people and make sure you have the right people in place to help you with your care and recovery. Have the right support system for recovery.
Be patient with the recovery time. Make sure you are eating well, drinking fluids, and following doctor's orders."
Types of Breast Surgeries, DC
There are various types of breast augmentation or other breast surgeries you can consider. We offer a variety of services/surgical procedures that can help you narrow down your desired path.
We provide procedures such as:
Breast Augmentations with Fat Grafting
If you want to increase the size and or shape of your breasts without an implant, you may want to consider breast augmentation with fat grafting. You can feel more confident in your breasts and remove any unwanted or undesired fat from other areas of your body.
If you have ever heard of a mastopexy, it means you have also heard of its more common name, Breast Lift. A breast lift will lift and enhance your breasts for a more youthful and perkier appearance. If you are feeling that over time your breasts have changed, you can consider a breast lift to combat that feeling.
Oversized breasts can create many problems in your everyday life. Things like simple tasks can even become difficult if you are left with pain or extraneous weight. Finding clothing that fits, completing household chores, and even exercising can become a difficult task.
This is why individuals may consider breast reductions or a reduction mammoplasty. This can help release pain and or discomfort you may have to your breast size, reducing the weight.
Many women that have overly large breasts can have neck and back pain, accompanied by self-confidence issues. We aim to work with you to understand how breast reduction surgery can improve your life and confidence.
Male Breast Reduction (Gynecomastia)
Male breast reductions, known as Gynecomastias, allow for reduced breast size and chest contour enhancement. Around 40-60% of men are affected by larger male breasts. Gynecomastias may help you look trimmer and more youthful.
Our physicians understand that your body image, self-confidence, and quality of life are deeply rooted in your appearance. In your consultation, your doctor will work with you to determine the best way to achieve your desired appearance.
After enduring breast cancer and losing one and or both of one's breasts, survivors deserve a normal pre-diagnosis life. Breast reconstruction aims to help women reclaim their femininity by restoring or replacing one's breasts.
During the experience of breast cancer, some women may undergo a mastectomy, double-mastectomy, or lumpectomy. This can result in losing one and or both breasts. Our doctors will work with you to understand and assist in how breast reconstruction can restore your quality of life and help you feel more confident, once again.
Our doctors have decades of experience making each and every patient feel beautiful and confident with the latest, most innovative practices. No matter which procedure you are interested in learning more about, Bruno | Brown aims to provide you with top-quality care.
Patient Resources For Breast Augmentation Surgery, DC
We also provide patient resources for all surgeries offered at our practice. You can find client forms, testimonials, blog posts, and animated surgical videos to learn more about the procedure(s) you are interested in.
To learn more about if a breast augmentation is right for you, schedule a consultation with Bruno | Brown Plastic Surgery today by calling (301) 215-5955.