When getting breast augmentation surgery, deciding on what surgeon to schedule a consultation with, what type of implants to use, and more, can be a scary and research-heavy decision.
At Bruno | Brown Plastic Surgery we understand that when choosing to receive plastic and cosmetic surgery, it can be a very private, personal, and sometimes life-altering decision.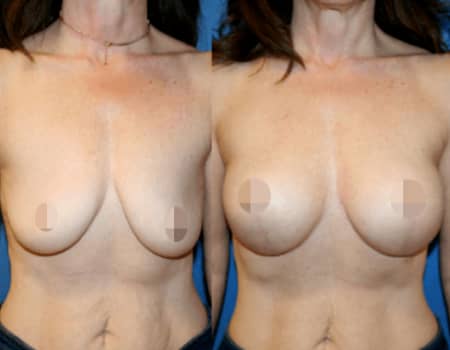 When searching for the right plastic surgeon for your procedure, it can seem like a difficult process. At Bruno | Brown Plastic Surgery we have two award-winning, board-certified plastic surgeons who both have a range of experiences in breast augmentations and other plastic surgery procedures.
Breast augmentations can help reshape and resize a women's breast. We understand that every woman is different and take a holistic approach to help our patients achieve their desired look. During one's consultation, our team will work closely to determine whether or not a breast implant or fat grafting is the right option for you.
It is vital to find the right plastic surgeon for your surgery and breast augmentation journey. Our doctors at the Bruno | Brown Plastic Surgery practice have decades of experience, working to provide quality care with innovative practices.
Meeting The Best Plastic Surgeons in Washington D.C.
At Bruno | Brown Plastic Surgery we have two award-winning plastic surgeons, Dr. Brown and Dr. Bruno. The doctors at have Bruno | Brown Plastic Surgery have various impressive accomplishments and have been received awards from both the local press and their peers. The doctors at Bruno | Brown Plastic Surgery both received prestigious and accredited educations at various institutions.
Dr. Bruno received his undergraduate degree from Wilkes College, where he graduated cum lade before attending Tufts University School of Dental Medicine. Dr. Bruno graduated summa cum laude at Tufts University School of Dental Medicine.
Dr. Bruno then went on to receive his medical degree from the University of Pennslyvania, where he was awarded his certificate of training in Oral and Maxillofacial Surgery from the same institution. Dr. Bruno then attended two years of plastic surgery fellowship training at the Cleveland Clinic Foundation.
In his time as a surgeon, Dr. Bruno has been recognized by the Consumers Research Council of America as one of America's Top Plastic Surgeons and has been peer-voted as one of the Top Doctors by Washingtonian Magazine for breast reconstructive plastic surgery.
Dr. Brown, a Louisiana Native, received his undergraduate degree from the University of Virginia. After his undergraduate degree, he went to complete his medical degree at Tulane University, back home in Louisana. Dr. Brown completed five years of general surgery training at Texas Tech University, culminating Chief Resident. Dr. Brown then went to train under the plastic and reconstructive surgery program at the Cleveland Clinic Foundation.
Dr. Brown was granted a fellowship at the prestigious Manhattan Eye, Ear, and Throat Hospital where he trained an additional year focusing entirely on cosmetic surgery. Dr. Brown has been featured in several publications, nationally and locally. These include The New York Times, Capitol File, the Washingtonian, and much more. In the Washingtonian, Dr. Brown was featured in articles as well as voted one of Washingtonian Magazine's Top Doctors.
Consultations With Expert Plastic Surgeons For The Popular Breast Augmentation Procedure.
When deciding to get a breast augmentation, there are various things to consider. On our website, one can find various considerations for patients and what their providers will discuss during consultations.
These considerations and topics of discussion can include things such as:
Deciding on and or understanding the differences between fat grafting and breast implants
Discussing implants and the materials, such as saline or silicone
Discussing what type of implant sizes one may want
Discussing the implant profile
Discussing the placement of an implant, such as above or below the pectoral muscle
Discussing a patient's lifestyle and or one's activity levels
Discussing skin elasticity
Breast Augmentations with fat grafting are also done at Bruno | Brown Plastic Surgery. This is for individuals who may want to increase their breast size and shape but without the use of implants. You can remove unwanted fat from another part of your body to then possibly increase your breast size.
Bruno | Brown Plastic Surgery has three different office locations patients can visit. The practice is located in the office at Barlow Building in Chevy Chase, Maryland, along with offices in Tysons Corner, Virginia, and Glen Burnie, Maryland.
At our Chevy Chase office, we have a state-of-the-art operating room, allowing us to provide a private surgical experience. In addition to a private cosmetic surgery space, it is placed within an office setting and board-certified anesthesiologists. Our doctors have hospital privileges in addition to our office locations. Hospitals can include Sibley Memorial Hospital, Suburban Hospital, INOVA Fairfax, Loudoun, Fair Oaks Hospitals, and Baltimore Washington Medical Center. This allows for procedures to be performed at a range of well-respected and accredited medical facilities.
You can contact the practice for some of the best plastic surgeons in Washington D.C. at (301) 215-5955 in Chevy Chase, MD, (703) 454-5544 in Tysons Corner, VA, and or (410) 762-4200 in Glen Burnie, MD.