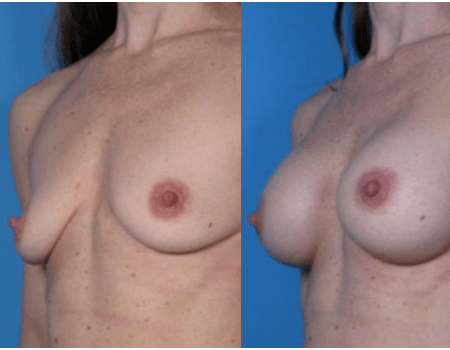 If you're unhappy with the size, shape, or even placement of your breasts, breast implants may be the solution you've been looking for. Whether you've always been unhappy with the appearance of your breasts or they've changed due to pregnancy, weight loss, or aging, we can help you get your confidence back.
Before deciding on breast augmentation, you should know whether or not you're a good candidate as well as the potential benefits of the procedure. Typically, candidates are in good health, not currently pregnant or nursing, interested in improving the appearance of their breasts, and at least 18 years of age. The benefits can include:
Increased symmetry of the breasts
Improved projection of the breasts
Increased cleavage
Increased breast volume and shape
Increased self-confidence
At Bruno | Brown, we have three different types of implants to achieve your desired look:
Saline implants
Silicone implants
Ideal implants
Each implant has its own set of benefits that vary from case to case. Another option that does not involve an implant is fat grafting in which fat is removed from one part of your body and placed into your breast. We can help you decide if an implant or fat grafting is a good fit for you.
How to decide if DC breast implants are right for your specific case
Every case is different, and everyone's goals are different. It's best to consult with a doctor and discuss your goals and desired outcomes to ensure the procedure is the best option for you.
The doctors at Bruno | Brown Plastic Surgery have extensive knowledge and are committed to providing top-notch results while always keeping patient safety a top priority. We'll evaluate your goals and what implant type may work best for you. We'll discuss the timeline, the procedure, and the recovery process, so you know what to expect before we get started.