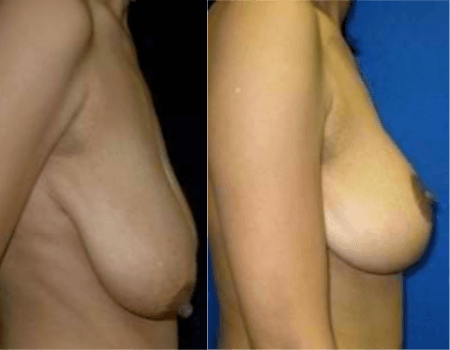 A variety of factors can cause your breasts to sag. Over time your breasts will naturally begin to sag lower than they once were, but things like pregnancy and weight loss can also play a huge role in the appearance of your breasts. The breast lift procedure allows you to boost your breasts back up where they once were and can give you more confidence in your own skin.
Every patient has different needs which we take into account when we discuss your options. In this procedure, incisions are made to sagging or droopy breasts in order to lift the breast and improve the contour. After the incisions are made, the underlying breast tissue is lifted and reshaped, the nipple and areola are repositioned, and any excess breast skin is removed.
The four types of breast lift procedure are:
Anchor: 3 basic incisions, one around the areola, one vertical to the breast crease, and one horizontal along the breast crease
Lollipop: 2 basic incisions, one around the areola and one vertical to the breast crease
Periareolar: 1 incision around the areola
Crescent: 1 along the top half of the areola
Most patients experience a recovery time of 1-2 weeks so you can be back to your normal activities in no time.
How to prepare for a breast lift consultation
It's important to have realistic expectations for your procedure. During your consultation, we'll discuss what your specific goals are, how we can achieve them, and go through any questions you have about the procedure and/or recovery. Our team aims to help you achieve the results you want and we'll let you know if an additional procedure, such as breast implants can help you achieve your ultimate goals for the procedure.
We perform technically advanced procedures to achieve the best results and will support you throughout the entire process and recovery.
To schedule your consultation with Bruno | Brown and learn more about the breast lift procedure call 301-215-5955 or click here.