Bruno | Brown Plastic Surgery helps women and men improve their appearance and feel younger with surgical procedures that target the body, breast, and or face. Our board-certified plastic surgeons are the best choice for cosmetic surgical and non-surgical procedures in the DC Metro area.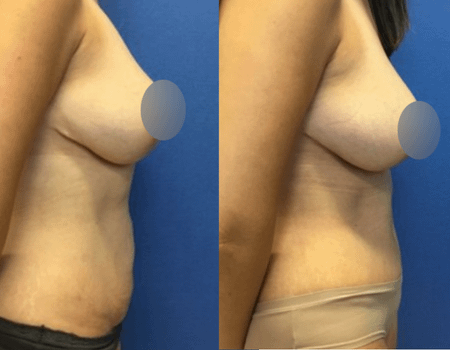 Our team is committed to upholding the highest standards of plastic surgery techniques, practices, and safety. Our goal is to help patients have the best experience possible. Our patients are treated with the utmost respect and privacy during their time with us.
Top-Rated DC Tummy Tuck Plastic Surgeons
Our plastic surgeons, Dr. Bruno and Dr. Brown, are considered some of the area's top plastic surgeons. We serve the greater Washington, DC metropolitan area with state-of-the-art and compassionate surgical care.
Dr. Bruno and Dr. Brown have been chosen as "Top Doctors" by their peers in Washingtonian Magazine and Northern Virginia Magazine. The doctors at Bruno | Brown Plastic Surgery have also been voted Best DC Plastic Surgeons by Bethesda Magazine's Readers Choice Awards, Top Plastic Surgeon by Posh Seven Magazine, and earned Top Doctor status on RealSelf.
Our doctors will be with you every step of the way- from initial consultation to the healing process.
What Happens During A DC Tummy Tuck Procedure?
During the tummy tuck procedure, Dr. Bruno or Dr. Brown will make the appropriate incisions depending on the technique chosen.
The upper abdominal skin is pulled down, and any excess skin is trimmed. The incisions are then closed accordingly. Liposuction is often performed before and during the procedure.
Your DC tummy tuck surgeon will work with you to determine which tummy tuck procedure best meets your needs. Some options include a full tummy tuck procedure, a mini tummy tuck procedure, or an extended tummy tuck procedure.
A full tummy tuck procedure involves an incision across the hip line and around the belly button
A mini tummy tuck procedure involves a smaller incision and is often complemented with liposuction.
An extended tummy tuck is best suited for individuals who have lost a significant amount of weight and involves extending the incision around the sides and possibly the lower back.
Our surgeons will tailor your tummy tuck procedure to best suit your needs and goals to result in a beautiful, natural look.
Can I Combine A DC Tummy Tuck Procedure With Other Procedures?
Yes! Many female patients also choose to have a tummy tuck as part of their mommy makeover, which allows you to combine procedures like breast augmentation, breast reduction, sculpting, and more. Some also have a tummy tuck with another sculpting procedure, such as liposuction. During your consultation, we can go through all of your goals to see if multiple procedures would be a better choice for you.
Benefits Of A Tummy Tuck
Some of the benefits of a DC tummy tuck surgery include:
Tightening the stomach muscles
Removing excess, loose, or hanging skin which may be the result of weight loss or pregnancy
Reducing the appearance of stretch marks, particularly after pregnancy
Flattening the stomach area
Improving the appearance of abdominal muscles
Reducing the size of the waistline and hipline
Enhancing the overall figure
We suggest scheduling a consultation with Dr. Bruno or Dr. Brown to decide if you are a good candidate for a tummy tuck procedure.
Call (301) 215-5955 to schedule your consultation for your DC Tummy Tuck.