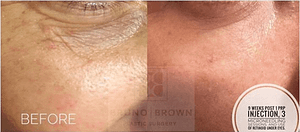 Love them or hate them, one thing we can agree on is that the Kardashians have really good skin. Kim and Kourtney swear by the virtues of the Vampire Facial (aka Microneedling with PRP) for flawless skin.
Microneedling is a non-invasive procedure that reduces the signs of aging, minimizes scarring, boosts collagen production, reduces hyperpigmentation and pore size, prevents premature aging, treats stretch marks, minimizes the appearance of age spots, helps improve texture and improves the appearance of rosacea.
Combining micro-needling with the body's own PRP (Platelet Rich Plasma derived from your own blood) is used to kick-start the healing process. The rejuvenation action that is started by the micro-channels is dramatically enhanced by the growth factors contained in the PRP.
Read on to find out what it was like, or contact us today if you are ready to give Microneedling with PRP in DC a try!
My best friend Sarah Howard recently got a vampire facial and documented her experience. I love that she tells it like it is! Scroll down to hear about her treatment and check out her website, Beauty Banter, for beauty news and the best products!
The PRP (Platelet-Rich Plasma) facial, also commonly referred to as the blood facial or the vampire facial, is the thing that complexion dreams are made of… read the rest of the blog here.
---
Bruno|Brown Plastic Surgery provides top-rated plastic surgery in the DC Metro area with award-winning plastic surgeons, Drs. Bruno and Brown.