Open your eyes and turn back time with blepharoplasty in DC
Our eyes are one of the most prominent features on our face. As we age, we start to notice skin laxity affecting their youthful appearance. This looseness can cause the eyelid to droop down, distorting our natural eye shape and making us look older. Eyelid surgery, known as a blepharoplasty procedure, removes excess skin to bring back your bigger, younger looking eyes
Welcome to our blog! If you're looking for blepharoplasty before and after photos, please click here.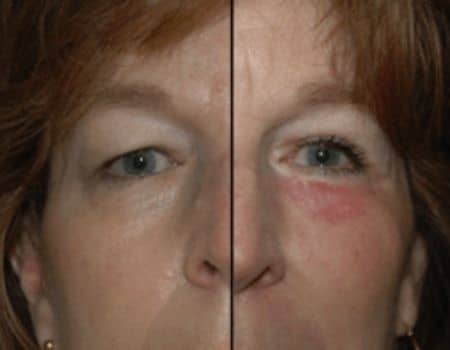 A blepharoplasty is a procedure popular for removing under-eye puffiness, drooping lids, and wrinkles, reversing the signs of aging around the eyelid and surrounding areas. At Bruno | Brown, we consider the overall harmony of your facial features, rather than focusing on one area in isolation. Your doctor will consult with you to determine which areas to target to achieve the best appearance for your eyes. Sometimes this can mean considering a brow lift or facelift instead of an eyelid lift.
Here are some considerations you might discuss during your consultation:
Upper blepharoplasty in DC: focuses on the upper eyelid
Lower blepharoplasty in DC: focuses on the lower eyelid
Vision difficulties caused by drooping eyelids
Undereye puffiness
Lifestyle
Whether or not to consider adding a browpexy
Eyelid surgery in Washington, DC offers a number of benefits for little recovery time. Some of these benefits include:
An overall more youthful appearance
Decreasing puffiness under the eyes
Lifting the appearance of hollows and brightening the appearance of dark patches under the eyes
Smoothing the skin around the eyes
Reducing the signs of aging and sun damage overall
The procedure itself is a very common procedure that has been done countless times by our doctors for years and years. Their experience and commitment to using innovative technology and techniques will give you the best possible results. Here are some things to expect from the procedure:
Surgical time: 1-2 hours, depending on your consultation you may add other procedures which can increase the time (browpexy, etc.)
Recovery time: 1-2 weeks, this can also depend on additional procedures
Bruising and swelling is normal and will reside over the course of your recovery time
No overnight hospital stay
At Bruno | Brown Plastic Surgery, we aim to help our patients achieve their goals to improve their physical and emotional happiness. We aim for your complete satisfaction with your results and will answer any questions you have along the way. Our team will also be there to support you through your blepharoplasty recovery.
Non-surgical eyelid procedures
There are alternative methods to correcting the eyes that don't involve surgery and can benefit those who don't qualify for the procedure. If you struggle with the look of "tired" eyes more than droopy skin, filler or botox may be good options for you. Listen to what Dr. Brown has to say about preventing and correcting tired eyes: