Your body goes through massive changes during pregnancy. For most women, it can be difficult to find time for a proper diet and exercise routine following the birth of a child leaving them feeling less than confident in their body. If you've been unable to achieve your post-pregnancy body goals, even with diet and exercise efforts, a mommy makeover procedure may be what you've been looking for.
What the mommy makeover procedure includes: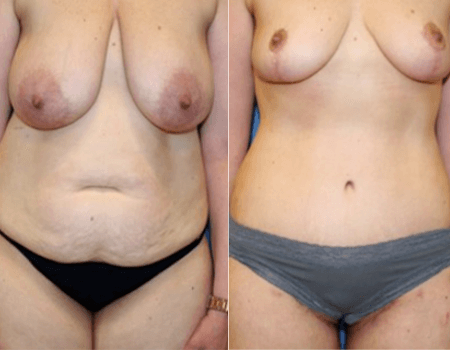 The mommy makeover procedure is meant to be tailored to your specific needs. There are a variety of procedures that women choose to undergo as a part of their makeover.
Tummy tuck– The tummy tuck is very popular for women who have gone through a pregnancy. Pregnancy can change the look of your stomach and leave behind stretch marks, excess skin, and fat. A tummy tuck can help you get a flatter stomach with toned-looking abdominal muscles post-baby.
Liposuction– Not all women need a full tummy tuck to achieve their tummy goals. Liposuction can be used to remove excess fat in the stomach as well as other areas of the body where you may have gained a bit of extra fat during pregnancy that doesn't seem to want to go away.
Breast augmentation– Many women opt for some type of breast surgery post-baby. A great time to have any sort of breast altering procedure is after you're done having children due to the effects pregnancy can have on the breasts. If pregnancy has left your breasts looking a little deflated or you've always wanted to enlarge your breasts, a breast augmentation may be right for you.
Breast lift– The breast lift procedure is another common procedure for women post-pregnancy. Breastfeeding, pregnancy, and aging can make your breasts sag over time which, for many women, isn't ideal. A breast lift can help boost your breasts making them look more youthful, and can be combined with an augmentation or breast reduction procedure.
Why so many women have chosen Bruno | Brown for their mommy makeover
Our highly trained doctors have experience in a variety of plastic surgery procedures. We perform technically advanced procedures in our state-of-the-art facility. Our surgeons will discuss your goals with you as well as the surgical procedures that may help you reach your goals. We'll discuss each procedure, what you can expect, and the expected recovery period.
Read a review from a recent patient:
"I did a lot of research, and had multiple consults before ultimately choosing to move forward with my breast augmentation with Dr. Bruno. Of the multiple plastic surgeons I vetted, Bruno/Brown was by far the most articulate, thorough, professional and kind clinics. With any plastic surgery/operation, there is always a level of anxiety, because it is a big life decision, but they were able to put me at ease throughout the entire process. Their follow through has been equally impressive – Dr. Bruno called me the evening of my surgery to check on me, and his office called me the following morning to check on me as well. I cannot say enough good things about them, and would recommend them 10X over."
To schedule a consultation with one of our experienced plastic surgeons for a mommy makeover in DC call 301-215-5955 or reach out online.