Micro-needling with PRP is a nonsurgical treatment that can help reduce the signs of aging and minimize the appearance of acne scars, and dark spots. Micro-needling with PRP can be used on the face, neck, arms, hands, décolleté, and legs to rejuvenate the skin.
Micro-needling, also known as collagen induction therapy (CIT), uses a small mechanical pen to make tiny channels in the skin at a precise depth to trigger the body's natural healing process. The micro-needling will trigger the production of new collagen and elastin which improves the skins texture and tone. Unlike some other types of treatments, micro-needling has very few constraints and is safe to use on all ethnicities and skin types with very little recovery time or side effects.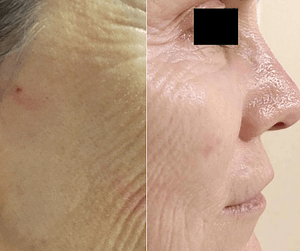 The Micro-needling procedure can take between 20-40 minutes with a recovery time of 4-6 days. First, PRP (Platelet Rich Plasma) is obtained by drawing a small amount of blood from your arm into a sterile tube and then separated out from the other elements of the blood using a centrifuge.
The PRP is applied topically to your face during and after the micro-needling procedure, which penetrates the top layer of skin without damaging it. PRP also speeds up the healing process. Your doctor will work with you to determine how many sessions you will need to achieve your desired look. Depending on the severity of your skins texture you may need anywhere from three to six sessions.
You can learn more about the micro-needling procedure from The American Society of Plastic Surgeons.
Benefits of Micro-Needling with PRP
Micro-needling with PRP will continue to activate the skin's repair process until your desired level of skin rejuvenation is achieved. Patients can expect mild redness for a few days after the procedure, but this can easily be covered with makeup.
Benefits of micro-needling can include:
Reduced appearance of scars
Minimized appearance of age spots and fine lines
Improvement in appearance of rosacea
Skin tone and texture becomes firmer and more even
New collagen and elastin produced
Reduced hyperpigmentation
Pore size shrunken
Reduced stretch marks