If your breasts are looking a little deflated and saggy due to pregnancy, weight loss, or aging, a breast lift may be right for you. In 2020 alone, nearly 90,000 patients opted for a breast lift procedure. The procedure is a great way to restore youthful, perky breasts and can be tailored to your specific needs.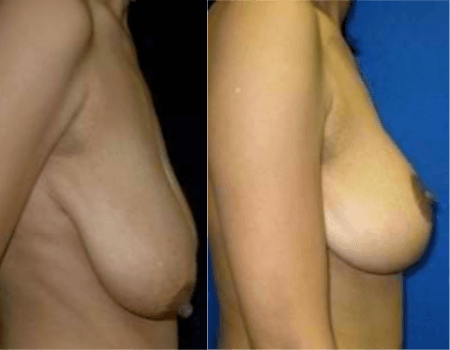 The procedure has four basic incision types that are meant to fit your needs:
Anchor: 3 basic incisions, one around the areola, one vertical to the breast crease, and one horizontal along the breast crease
Lollipop: 2 basic incisions, one around the areola and one vertical to the breast crease
Periareolar: 1 incision around the areola
Crescent: 1 along the top half of the areola
You can discuss what incision may be needed to achieve your goals during your consultation with Bruno | Brown. We can also discuss any other procedures that may help you achieve your ultimate goals. For example, many women want to not only lift their breasts but also increase the size. We typically recommend that our patients combine procedures, such as a lift and augmentation, so that they can also combine their recovery time and achieve their goals even faster.
Your breast lift consultation with Bruno | Brown
During your consultation, we'll discuss how the procedure can benefit you and help you achieve your breast goals. We can go through any questions you have about the procedure and discuss any other areas of your body you would like to target.
When you decide you may be ready to undergo a breast lift, finding the right plastic surgeon for your DC breast lift procedure is critical. Our doctors have decades of experience making each and every patient feel beautiful and confident with the latest, technically advanced practices.
To schedule a consultation with Bruno | Brown for a breast lift call 301-215-5955 or click here.