A DC Mommy makeover may be for you if you are looking to achieve your pre-pregnancy body.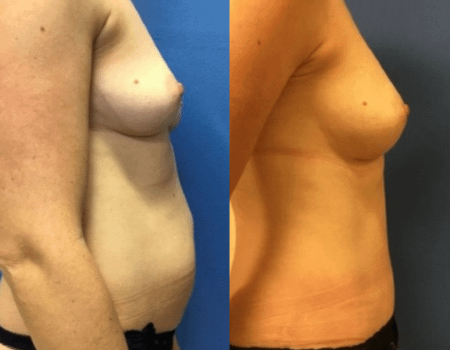 What Is A DC Mommy Makeover?
We offer mommy makeovers in DC for patients who want to restore their bodies to pre-baby days.
After having a child, patients can experience lax abdominal muscle, saggy breasts, and a body shape that may feel a bit less than desirable. These bodily differences can often lead to questions about getting mommy makeovers.
The mommy makeover procedure can help rejuvenate your body by lifting your breasts, shrinking your waistline, and more.
This is a very sought-after cosmetic surgery that works to potentially reverse some of the more undesirable physical effects of having a child, with a combination of aesthetic goals.
You can schedule a consultation with us, where the doctors at Bruno | Brown Plastic Surgery will work to create a personal plan to outline a combo of procedures that will meet your needs.
Some of the benefits of our DC mommy makeover procedures can include:
The removal of excess skin
The removal of loose skin
The removal of hanging skin
Lifting and enhancing the breasts
Reducing the appearance of stretch marks, particularly after pregnancy
Increasing confidence and self-image
Each mommy makeover is unique. It can include a variety of procedures at once, allowing for a one-time surgery process. The procedures you select will change depending on your personal goals and lifestyle factors. Each mommy makeover will be unique to the patient due to the various combinations of procedures.
Some of the procedures your mommy makeover could include are:
Liposuction
Breast Augmentation
Breast Lift
The treatment plan for your mommy makeover surgery can be discussed during your consultation. The consultation will also go over if you are a candidate for a mommy makeover, recovery time, diet, exercise, and more.
DC Mommy Makeover Reviews
We asked one of our patients how they felt about the recovery period:
I went back to work a week later! I was tired, my energy wasn't back, but I was able to work (overtime, actually) the first day back. For a full recovery- exercising, totally back to normal: 6 weeks.

I knew what to expect, it is a trade-off, but the scar that I have is very well concealed. I can wear a two-piece bathing suit if I want to and nobody would know. I would take the scar any day over the multiple folds of skin I had hanging off of my lower abdomen.
Trustworthy DC Mommy Makeover Surgeons In DC
Bruno | Brown Plastic Surgery has two trustworthy plastic surgeons in the DC area, ready to assist patients with their plastic surgery and skin care needs.
The doctors at Bruno | Brown Plastic Surgery have hospital privileges at Sibley Memorial Hospital, Suburban Hospital, INOVA Fairfax, Loudoun, Fair Oaks Hospitals, and Baltimore Washington Medical Center allowing for procedures to be performed at a range of well-respected medical facilities.
We are committed to providing technically advanced and cutting-edge procedures while using sound surgical principles to obtain safe, effective results in the Washington, DC area. We understand that choosing to get plastic surgery is a very personal and private decision, that's why we want to provide safe and effective results.
Schedule your consultation with Bruno | Brown Plastic Surgery for your DC mommy makeover.