Have your babies changed your body? Mommy Makeovers and Tummy Tucks at Bruno | Brown can help!
You have reached our blog! If you're looking for body contouring before and after photos, please click here.
At Bruno | Brown Plastic Surgery, we specialize in body contouring procedures like mommy makeovers and tummy tucks. These procedures help to tighten and restore your core to give you a slim waist and lifted appearance.
Having a baby is one of the most exciting moments of your life. Your body has just done an incredible task, but now may be feeling the after-effects. Loose skin and sagging are extremely common after pregnancy. Some people are able to bounce back, while some may need extra help.
"I had cosmetic surgery with Dr. James Bruno and Dr. Coleman Brown in July. I had liposuction 360 and a breast lift. I can't thank you both or your staff enough for your professionalism, hard work, and excellent care. -VJ, Google Review"
The tummy tuck procedure can be included in a mommy makeover but is also popular by itself. Many patients opt to include this in their mommy makeover because it specifically focuses on restoring your abdomen, but you don't have to have a baby to have this done. Tummy tucks are also common after significant weight loss. A tummy tuck, also known as abdominoplasty, addresses your problem areas by removing unwanted stubborn fat and tissue around the waistline and stomach.
There are various types of tummy tucks. Your doctor will discuss which tummy tuck will be right for you when you discuss your current situation and desired outcome.
Mini Tummy Tuck: Patients in need of only a small amount of excess fat and skin removed may only require a mini tummy tuck, requiring a smaller incision and less surgery time.
Regular Tummy Tuck: The most common tummy tuck ranges from hip to hip, removing excess fat and loose skin from an individual's entire abdominal area.
Extended Tummy Tuck: While this procedure is extremely similar to a regular tummy tuck, the targeted area extends beyond the hips, often including a liposuction contour within the desired area. Individuals who want to remove excess skin and fat in the lower back and hips may be recommended this procedure for best results.
Circumferential Tummy Tuck: A 360-degree tummy tuck removes excess skin and fat from the entire torso, generally most suitable for individuals who have faced significant weight loss, resulting in excess skin and fat in the abdomen, hips, and back.
If you're looking to get a tummy tuck in Maryland, the team at Bruno | Brown Plastic Surgery will take care of you every step of the way.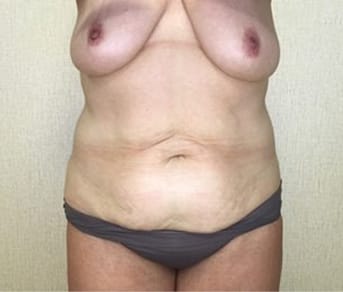 The mommy makeover rejuvenates your body and restores your pre-pregnancy figure. This popular cosmetic surgery reverses the undesirable physical effects of pregnancy and childbirth through a combination of procedures. These procedures could include:
a tummy tuck
breast lift
liposuction
breast enhancement
and other body contouring techniques
Your specific mommy makeover will depend on what unique goals you and your doctor establish during the consultation. In order to know if you're a good candidate for this procedure, you will have a consultation with our doctors to discuss your:
medical health
ideal body weight
outlook and expectations
future of childbearing
If you're looking to get a Chevy Chase mommy makeover, our doctors will ensure confidence in every aspect of the procedure. This includes your consultation, procedure, and recovery.
"During the consultation, Dr. Brown listened to my concerns and took the time to thoroughly explain the procedure, addressing any doubts or questions I had. Dr. Brown's surgical expertise is truly remarkable. The whole procedure was flawless. I was told step by step how everything would go, and Dr. Brown made the entire experience so easy and comfortable. I was given detailed instructions about the post-procedure and saw Dr. Brown for follow-ups during the recovery. I could not have been more pleased with the results, and I am forever grateful for the care I have received." – Google Review
Recovery for these procedures can range between two and three weeks. No overnight hospital stay is required for either procedure. Activity will be minimal the first week and you may need assistance during your daily activities. After the first week, you will gradually increase your activity as you start to feel better. You can expect a slightly longer recovery from a mommy makeover as you are recovering from multiple procedures at the same time compared to just one.
Every patient is different and will require different recovery processes. Listen to your doctor and follow the guidelines given to you for the best results.