Eyelid surgery, also known as a blepharoplasty, is a popular procedure done to bring your eyes back to life. Eyes are one of the most distinguishable features of a person so when you suffer from chronic lack of sleep, aging, or sun-damage, it may cause you to look tired or angry all the time. Removing under-eye puffiness, drooping lids, and wrinkles can make you look more youthful around the eyelid and surrounding areas.
Bringing anything close to your eye can be scary, that's why it's important to find a surgeon you trust. At Bruno | Brown Plastic Surgery, we approach each patient with care and compassion, ensuring you're comfortable during every stage of the process. From the consultation to the recovery, we're here to help you in any way we can.
Welcome to our blog! If you're looking for blepharoplasty before and after photos, please click here.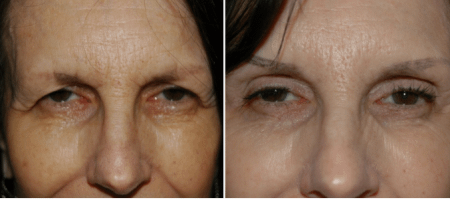 At Bruno | Brown, we consider the overall harmony of your facial features, rather than focus on just the eye area in isolation. Your doctor will consult with you to determine which areas to target to achieve the best appearance for your eyes. When determining this, you may discuss:
Upper blepharoplasty
Lower blepharoplasty
Vision difficulties caused by drooping eyelids
Undereye puffiness
Lifestyle
Whether or not to consider adding a browpexy
Once all factors are discussed and both you and your doctor are confident in the path you want to take, you will move forward to the procedure. Depending on your circumstances, you may get a lower blepharoplasty, upper blepharoplasty, or both.
Upper blepharoplasty procedures benefit patients with sagging skin, loose muscle, or excess fat tissue along their upper eyelids. This type of eyelid surgery is ideal for correcting fatty or excess skin that falls over the eye, causing a disruption in the natural contour of the upper eyelid. In severe cases, visual impairment called ptosis, can occur.
An upper eye lift is performed by removing the excess skin, muscle, and fat through a small incision in the upper eyelid. Incisions are hidden in the crease to camouflage the scar once healed. The muscles above the eye may be repositioned before the skin is lifted and reattached.
The entire procedure normally takes between 45-60 minutes and can often be performed under local anesthesia.
Lower blepharoplasty procedures benefit patients with drooping skin or excess tissue along their lower eyelids. This procedure can address a variety of lower lid issues including eye bags, puffiness, dark under-eye circles, wrinkling, and droopiness. In severe cases, droopiness may reveal an increased amount of the whites of the eyes.
Lower blepharoplasty procedures can be done using either an external or internal approach.
The external approach, also called the skin-muscle approach, uses an incision made just below your lower eyelashes to remove the excess fat and skin. The hollow areas under the eye may be plumped by using the fatty excess from the eyelid or lifting the cheek. If weakness needs to be improved, the lower eyelid may be tightened.
The internal approach, also called the transconjunctival approach, uses an incision made just inside the eyelid to remove the excess fat. This fat can be repositioned more directly and hollows can be corrected. This type of procedure is preferred in younger patients or patients without eyelid weakness as the support structures of the eyelid are preserved more with this technique.
These procedures can take anywhere between 60-90 minutes.
Our expert and award-winning plastic surgeons have years of experience. At Bruno | Brown Plastic Surgery, we aim to help our patients achieve their goals and improve their confidence. We aim for complete satisfaction with your results and will answer any questions you have along the way. Our team will also be there to support you through your blepharoplasty recovery.