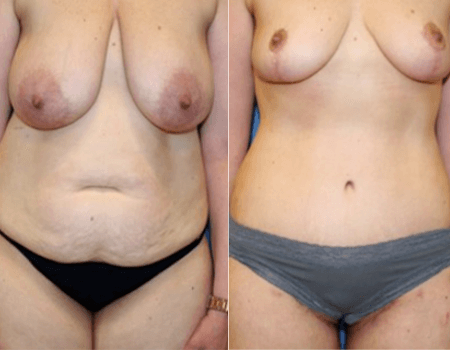 You may or may not have heard of the mommy makeover procedure before, but if your body has changed due to pregnancy and you want to get back to your pre-baby body, a mommy makeover could help.
Pregnancy and motherhood are wonderful experiences for many women, but having a child can change your body in several ways. Many women experience laxity in their abdominal muscles, excess skin, stretch marks, and saggy breasts. While diet and exercise can be great additions to your routine, they can't always return your body to its pre-baby state.
Different women experience different changes to their body following pregnancy. For that reason, the mommy makeover is meant to be altered to fit the patient's specific needs. Some women wish to make small adjustments to improve their appearance while others wish to drastically change their body. The procedure often includes a tummy tuck, liposuction, breast enhancement, and breast lift. We'll discuss your specific goals in your consultation and help you determine which combination of procedures may be best for you.
Lifted and/or enhanced breasts
Reduction in the appearance of stretch marks
Removal of excess skin due to weight loss or pregnancy
Increased confidence and self-image
When you're considering a mommy makeover it's important to discuss your options with an experienced and trusted plastic surgeon. The doctors at Bruno | Brown are committed to providing patients with the best possible result while always keeping the patient's health and safety top of mind. We'll discuss what your body goals are, which procedure or procedures could be right for you, and what to expect before, during, and after the procedure. We're here to support you throughout the entire process and help you get your pre-baby body back.
To schedule a consultation with one of our top plastic surgeons for your mommy makeover procedure in Washington DC call 301-215-5955 or click here.