Have you ever wondered what people mean when they say they got a "mini tummy tuck" in the DC area? Bruno | Brown Plastic Surgery offers various types of tummy tucks and other surgical procedures for our clients in the Washington, DC Metro area.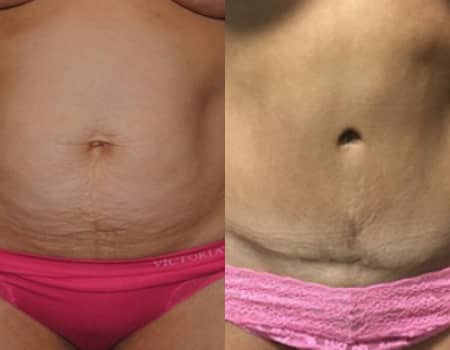 How To Find The Best Type Of Tummy Tuck In DC For You:
Abdominoplasty, or a tummy tuck, is a surgery that removes unwanted fat and tissue around the waistline and stomach. This can address problem areas that diet and exercise alone may not be able to fix.
There are three different types of tummy tucks you can get.
Your board-certified DC tummy tuck surgeon will work with you to help determine which tummy tuck procedure will best fit your needs.
Full Tummy Tuck: a full tummy tuck in DC will involve an incision across the hip line and around the belly button
Mini Tummy Tuck: the mini tummy tuck involves a smaller incision and is often complemented with liposuction
Extended Tummy Tuck: extended tummy tucks are typically suited to patients who have lost a significant amount of weight; extended DC tummy tucks involve extending the incisions around the sides and possibly the lower back
Our expert plastic surgeons will tailor your DC tummy tuck procedure to best suit your needs and or goals, working with you to provide the best possible result for a beautiful and natural look.
Benefits Of A Tummy Tuck In DC
The benefits of a tummy tuck may include:
flattening the stomach area
removing excess skin, which may be the result of weight loss or pregnancy
removing hanging skin, which may be the result of weight loss or pregnancy
removing loose skin, which may be the result of weight loss or pregnancy
improving the appearance of abdominal muscles
reducing the size of the waistline and hipline
enhancing the overall figure
tightening the stomach muscles
reducing the appearance of stretch marks, particularly after pregnancy
What Is The Recovery Process Like After A Tummy Tuck In DC?
Some patients notice the results the next day. Most can return to regular activity after two or three weeks and exercise once they are fully healed.
In some cases, a tummy tuck is complemented by liposuction to remove fat or part of a mommy makeover. Many women patients also choose to have a tummy tuck as part of their mommy makeover, which allows you to combine procedures like breast augmentation, breast reduction, sculpting, and more.
You can discuss the healing process in your consultation with our top DC tummy tuck surgeons, Dr. Bruno or Dr. Brown. They can also help you determine if you are a good candidate for a tummy tuck.
Finding The Best Tummy Tuck Surgeons In Washington, DC
The DC tummy tuck surgeons at Bruno | Brown Plastic Surgery are board-certified and have decades of experience.
We understand that choosing plastic surgery is a personal decision that can be life-altering. We are committed to providing advanced, cutting-edge procedures while using sound surgical principles to obtain safe, effective results. The doctors at Bruno | Brown Plastic Surgery also have hospital privileges at several well-respected medical facilities in the DC area.
You can schedule a consultation for your DC tummy tuck on our website.