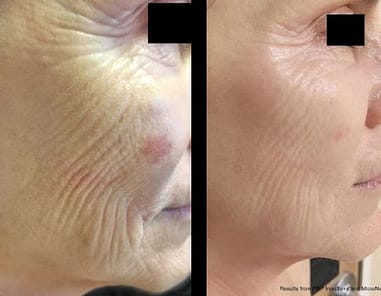 The American Society of Plastic Surgeons reveal an upward trend in cosmetic enhancements in 2018, with an increase in nonsurgical or minimally invasive procedures. One of the top minimally invasive procedures is Microneedling with PRP, also known as the 'Vampire Facial'. It's likely you've seen post treatment photos of celebrities like Kim Kardashian, so it is likely you have questions about the procedure and the benefits.
Microneedling is a minimally invasive procedure that uses a pen to create tiny channels at a specific controlled depth that triggers the body's natural healing process to fill these microchannels by producing new collagen and elastin for smother, firmer and more youthful looking skin.
PRP (Platelet Rich Plasma) is obtained by drawing a small amount of blood from your arm into a sterile tube. It is critical to healing, which is why PRP is applied topically during and after the micro-needling procedure to ensure that the PRP gets fully absorbed. The PRP supercharges the microneedling benefits, virtually eliminating side effects and speeding up recovery time.
Combining microneedling with the body's own PRP is used to kick start the healing process. The rejuvenation action that is started by the micro-channels is dramatically enhanced by the growth factors contained in the PRP. 
Benefits of the Vampire Facial
With a 96% 'Worth It' score on realself.com, it's no wonder this procedure is popular. This is likely because it is safe to use on all ethnicities and has little downtime or side effects. PRP works to improve things like the overall tone and luminosity of the skin by reducing pore size and improving that crepey skin you might see under the eyes.
One of the biggest benefits includes collagen production which can continue for up to six weeks post treatment. A series of multiple treatments will help you achieve the best results.
Set up a free consultation to discuss your concerns and we can work with you to develop a custom skin care plan, including different treatments and at home care options.
If you are interested in Microneedling w/ PRP or the vampire facial, contact us today to set up an appointment.