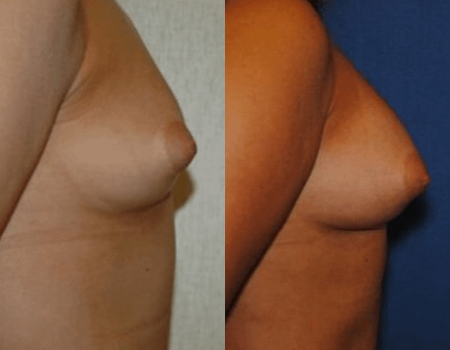 Hundreds of thousands of women undergo the breast augmentation procedure each year. The incredibly popular procedure can involve a variety of implant types or a fat transfer procedure. With several options, you may be wondering which procedure is right for you. While your goals for your breasts may end up dictating which augmentation is right for you, many women opt for a fat transfer procedure as opposed to implants.
The fat transfer breast augmentation is a great option for women who want to enlarge their breasts without the use of implants and also remove fat from other areas of the body. The procedure involves removing fat from another area of your body, such as the tummy, and placing the fat within the breasts to enlarge their appearance. This procedure also leaves behind minimal scarring and has a short recovery time of just a couple of days.
Each type of implant or transfer of fat can give a different overall result. During your consultation, we'll discuss your goals for your breasts and how each type of implant or fat transfer could benefit you. Our doctors are highly trained and perform technically advanced procedures to achieve the best possible results. We can walk you through the specifics of each procedure so you feel informed prior to making a decision on how to move forward. We will also support you throughout your recovery period to ensure everything is healing properly even with minimally invasive procedures.
Whether you're just getting started in the process of learning about procedure options or you're ready to move forward, schedule a consultation with us today to learn more about your options and what may work best for you.
To schedule a consultation and learn if a fat transfer breast augmentation is the right procedure for you call 301-215-5955 or click here.