Looking for a centrally located plastic surgery practice with state-of-the-art operating rooms, experienced surgeons, and impeccable bedside manner? Meet some top DC plastic surgeons at Bruno | Brown Plastic Surgery.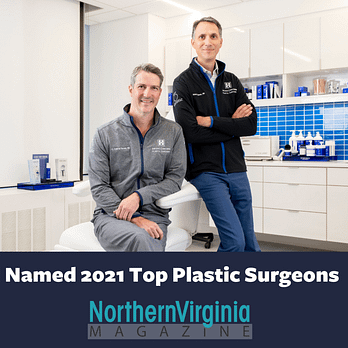 In our practice, we understand that when choosing to get a plastic surgery procedure done, it is often a very personal and private decision. We are committed to our patients and work tirelessly to provide the most technically advanced and cutting-edge procedures. Above all, we put safety at the forefront of what we do and ensure our patients are getting all of the information and safety precautions regarding their procedure.
Our plastic surgery offices are conveniently located in the DMV with three various locations. We are located close to DC in the Chevy Chase area, at the prestige Barlow Building. We also have offices located in the Tysons Corner area of Virginia and Glen Burnie Maryland.
The plastic surgeons at Bruno | Brown Plastic Surgery also have hospital privileges at several well-respected accredited medical facilities, including Sibley Memorial Hospital, Suburban Hospital, INOVA Fairfax, Loudoun, and Fair Oaks Hospitals, and Baltimore Washington Medical Center. This allows them to perform procedures at a range of different hospitals.
At our Chevy Chase office near Washington DC, we have a top-of-the-line operating room where we provide private cosmetic surgery in the office, with board-certified anesthesiologists. We also provide a skin care center in Chevy Chase with multiple procedures and skincare treatments.
Bruno | Brown: DC Plastic Surgery Procedures
At Bruno | Brown Plastic Surgery we offer a variety of different surgical and non-surgical procedures for our clients depending on their goals and or desired outcome. Each patient's wants/needs will be different and we work to provide you with the best possible surgery plan during your consultation with our board-certified surgeons.
We offer several types of surgeries depending on the body. We have cosmetic and plastic surgeries for the stomach, face, legs, arms, labia, breasts, and more.
As top plastic surgeons in the DC area, we work to provide expert knowledge as board-certified plastic surgeons. Our aim during your consultation, surgery, and post-operation consultations is to answer our patients' questions and concerns regarding their surgery.
As a premier plastic surgery practice in the Washington Dc area, we offer:
Mommy makeovers
Breast Reconstruction
Brazilian Butt Lifts (BBL)
Rhinoplasty (nose job)
Face Lifts
and other plastic or reconstructive surgeries!
Which DC Plastic Surgery Practices have Skin Treatments?
Did you know Bruno | Brown Plastic Surgery also has a skincare center? At our Chevy Chase office, we offer a skin care treatment center that has a variety of different skin care procedures/treatments.
The aging process can often leave our skin feeling dull and in need of rejuvenation. That's why our licensed estheticians provide an array of options to target your skincare goals. We offer:
Facials
HyrdaFacials
Microneedling
Skin Care products
and more!
Dr. Bruno and Dr. Brown are some of the best plastic surgeons in the Washington DC area. As plastic and cosmetic surgeons, you must go through a rigorous medical school process that provides you with expert knowledge and bedside manner. When deciding to get an aesthetic surgery, you want to make sure your doctor is properly qualified and takes great care in their work.
Dr. Bruno received his medical degree from the University of Pennsylvania and was awarded his certificate of training in Oral and Maxillofacial Surgery from the same institution. This was followed by a two-year plastic surgery fellowship training at the Cleveland Clinic Foundation.
Originally a Louisiana native, Dr. Brown received his undergraduate degree from the University of Virginia before returning to Louisiana to complete his medical degree at Tulane University.
Dr. Brown completed five years of general surgery training at Texas Tech University, culminating as Chief Resident, and then went on to train under the plastic & reconstructive surgery program at the Cleveland Clinic Foundation. He was subsequently granted a fellowship at the prestigious Manhattan Eye, Ear, and Throat Hospital in New York where Dr. Brown trained for an additional year focusing entirely on cosmetic surgery.
If you are looking to schedule a consultation with a DC plastic surgery office, call Bruno | Brown Plastic Surgery at (301) 215-5955