Bruno|Brown Plastic Surgery takes expert care of all of their plastic and cosmetic surgery patients, and breast augmentations are no different! We aim to provide top-quality care for all of our patients, so they can leave satisfied and well-taken care of.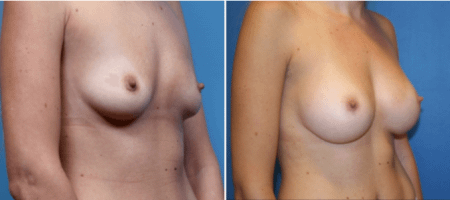 Breast augmentations can provide patients with an enhanced figure by resizing and reshaping the breast to achieve a fuller look to feel happier and more confident.
Every individual is different and at Bruno | Brown, we take a holistic approach to achieving your desired look and results. During your consultation, we will work closely with you to determine whether a breast implant or fat grafting can best help you achieve the ideal shape and size of your breast.
Here are some of the considerations we'll discuss during the consultation:
The options of implant vs. fat grafting

The type of Implant material (saline or silicone) you may want

What implant size do you desire

The implant profile

The implant placement (above or below pectoral muscle)

Your daily lifestyle and activity levels

Skin elasticity
The surgery time are typically between 1-2 hours, with a potential recovery time between 1-2 weeks. Overnight hospital stays are not usually required. Every patient is different and we'll make sure we review all the details of your surgery with you!
Making the right decision can be challenging when it comes to finding the right medical experts. Choosing an expert plastic surgeon with proven expertise is important for your mental and physical health. Therefore, finding the right plastic surgeon for your breast augmentation surgery is critical. Our doctors have decades of professional experience making each and every patient feel beautiful and confident with the latest, most innovative practices.
Our practice understands that choosing plastic surgery is a personal, private, and sometimes life-changing decision. Here at Bruno|Brown Plastic Surgery, we are committed to providing advanced, cutting-edge procedures, all while using sound surgical principles to obtain safe, effective results for all patients.
The doctors at Bruno | Brown Plastic Surgery have hospital privileges at Sibley Memorial Hospital, Suburban Hospital, INOVA Fairfax, Loudoun, and Fair Oaks Hospitals, and Baltimore Washington Medical Center allowing for procedures to be performed at a range of well-respected accredited medical facilities.
We interviewed a patient who underwent a breast augmentation procedure at our practice. She shares her experience with Bruno | Brown Plastic Surgery and the breast augmentation procedure.
Our Bruno|Brown Plastic Surgery Patient chose our practice because:
"… I saw that the doctors at Bruno | Brown Plastic Surgery had been well vetted and featured as one of the Top Doctors in DC in Washingtonian Magazine. Just reading up on Dr. Brown and his background I felt really good about him on paper. Then the test was going to be his bedside manner, and I absolutely adored him. He was great to talk to, he was very calm, informative, and I felt very comfortable."
"I was very nervous. I didn't get nervous until the day of surgery. And I almost left! I was so nervous. I thought to myself, 'This is ridiculous, I can't believe I am going to go under for cosmetic surgery.' But I knew that I really wanted it. I had thought about it for 3 years, at least. As soon as Dr. Brown walked into the room, he saw my face, and he said 'Hey, how are you doing this morning?' and his voice just calmed me. And I said 'Dr. Brown, I am so nervous' and he said there was nothing to be nervous about. I said, 'You're right, because I trust you'. I remembered when the anesthesiologist gave me the medicine to go out, I remember him holding my hand as I was counting backward. And rubbing my hand and he was saying 'you'll be fine' and that's all I remember and then I woke up and everything was fine."
During your breast augmentation consultation, we'll discuss your specific goals for your breast implants, and figure out what type of implant may be right for you. We'll also go through what you can expect during your recovery and be there to support you every step of the way. Our award-winning physicians are highly trained and perform technically advanced procedures to achieve the best possible results for our patients.
You can reach the practice at (301) 215-5955 in Chevy Chase, MD, (703) 454-5544 in Tysons Corner, VA, and or (410) 762-4200 in Glen Burnie, MD.