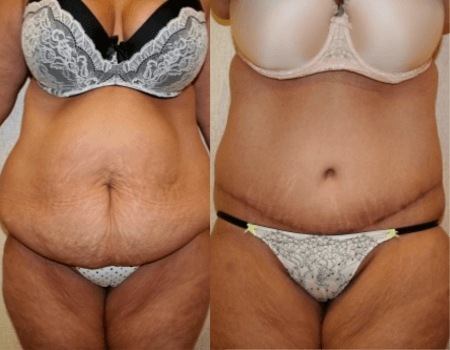 Are you unhappy with your tummy due to loose skin, extra fat, and stretchmarks? You're not alone. Hundreds of thousands of Americans are unhappy with their midsection and even with proper diet and exercise it can be hard to get the toned, trim appearance you desire. If you're one of the many who are ready to make a change and take control of your body and get the midsection you've been yearning for, a tummy tuck may be the right procedure for you.
Why so many patients opt into the DC tummy tuck
The procedure is not one size fits all– At Bruno | Brown we perform a mini-tummy tuck for patients who have small to moderate changes, a full tummy tuck which is to moderate to more severe cases, and the extended which treats patients who have a larger amount of excess skin and fat they would like to address.
The procedure can treat several areas of concern– The tummy tuck has been known to improve the appearance of your tummy by removing excess skin left from weight loss or pregnancy, excess fat, and even reduce the appearance of stretchmarks.
The procedure can be combined with others– Many patients come to us with more than one area they'd like to target. Some wish to reduce or increase the size of their breasts, remove excess skin from their thigh or arm areas, or give their butt a boost, to name a few. The tummy tuck procedure can be combined with several others so you can tackle all your areas of concern in one visit.
Our doctors are highly trained and provide top of the line service. We perform technically advanced procedures to produce the best possible result for our patients. We always keep patient safety top of mind and will work to recommend the best procedure to achieve your goals. During your consultation, we'll discuss what exactly you would like to achieve and the possible ways to get there. We want to make sure you feel comfortable and informed before undergoing any procedure and we'll support you until you're healed completely.
To schedule your consultation for a DC tummy tuck and learn if the procedure is right for you call (301) 215-5955 or click here.