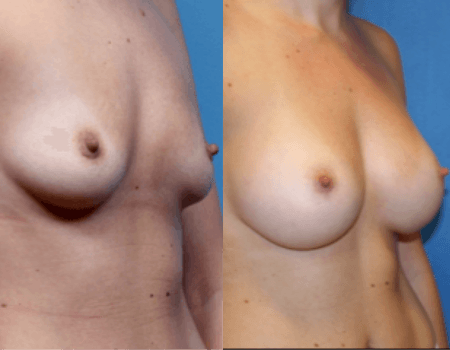 Are you considering breast implants and aren't sure where to start? Whenever you're considering plastic surgery you want a surgeon you can trust who can recommend the best procedure for you. At Bruno | Brown we take the time to get to know our patients and their goals. When a potential patient comes to us looking for breast implants we'll look at each implant type to ensure you're getting the best one for you.
Each implant can offer a different fullness, projection, and overall feel. We carefully select implants based on your current and desired breast appearance. Breast implants can offer you a larger appearance, more cleavage, and improved symmetry.
Saline implants– These implants offer a firmer feel and can be filled to your preferred volume
Silicone implants– Silicone implants can be filled to the desired fill for each breast and offer a more natural feel.
Ideal implants– Ideal implants are saline implants that provide a natural feel and youthful look without using silicone gel by using a series of implant shells nested together and two separate chambers that hold the saline.
Fat grafting– If you're not entirely sold on breast implants we can consider fat grafting as an alternative using fat from your own body. Ask your doctor during your consultation to see if it's right for you.
During your consultation, we'll discuss what your goals are and the appearance you would like to achieve. This will help us decide on the type of procedure that's right for you and in some cases, we may recommend additional procedures to achieve your ultimate goals. The purpose of your consultation is to answer your questions and find out what's best for you and what your options are. We aim to achieve your complete satisfaction and give you the breasts you dream of.
To schedule your consultation with the experienced doctors at Bruno | Brown Plastic Surgery and find out if breast implants are right for you call 301-215-5955 or click here.