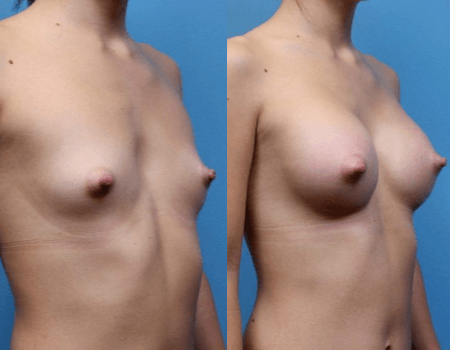 Breast augmentation is an extremely common plastic surgery procedure that allows women the ability to reshape and/or resize their breasts to achieve their desired look. According to the American Society of Plastic Surgeons, there were over 313,000 breast augmentations performed in 2018 alone. The procedure can be tailored to achieve your specific goals and with three implant options, we can help you find the one that's right for you.
Different women have different goals for their breasts. Some women want their breasts to increase in size, some in volume, and some in both. Whether you're looking to achieve the breasts you never had or restore volume lost over time, we'll discuss implant options and the benefits of each one. At Bruno | Brown we offer three types of implants:
Saline implants
Silicone implants
Ideal implants
Each implant has its own set of unique benefits and can give you a different result. We will make implant recommendations based on your appearance goals and lifestyle.
Breast implants have a wide variety of benefits including:
Improved projection of the breasts
Increased shape and size of the breast
Increased symmetry
Improved volume and shape follow pregnancy, weight loss, or aging
Increased confidence
Why you should choose a top-rated DC plastic surgeon for your breast implants in DC
Just like any other surgery, you'll want to consult with a knowledgeable plastic surgeon prior to having a breast augmentation. Our doctors will discuss your goals, whether or not you're a good candidate, and what to expect throughout your procedure and recovery.
We're committed to providing top of the line procedures that provide the best possible results. We value our patient's happiness and safety above all else and aim to help you achieve the breasts you've always wanted.
To schedule a consultation with one of our top-rated DC plastic surgeons for your DC breast implants call 301-215-5955 or click here.