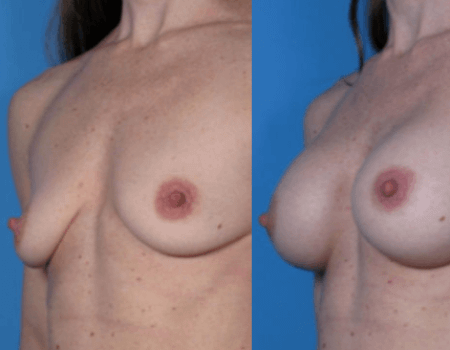 If you're curious about breast augmentations but aren't sure if they're right for you, we can help you find the right implant to achieve your goals. Hundreds of thousands of women opt into breast augmentation surgery each year but not all procedures are the same. There are 4 distinct ways to augment the breasts. Whether you're looking to drastically increase your breast size, get a bit of a boost, or simply gain symmetry, there's an option made just for you.
Ideal Implants– Ideal Implants are saline implants that provide a natural feel and youthful look without using silicone gel by using a series of implant shells nested together and two separate chambers that hold the saline.
Silicone Implant– A silicone shell is filled to your desired volume and offers a more natural feel.
Saline Implants– The shell is filled with saline to your preferred volume, increasing the shape and size of your breasts with a firmer feel.
Fat Grafting– Achieves a fuller look with a careful injection of fat. Fat is injected through very small straw-like cannulas leaving minimal evidence of the procedure.
We're passionate about helping our patients achieve their goals through procedures that are suited to their needs. During your initial consultation, we'll go through the different options and how they can benefit you. We'll walk you through each procedure and recovery time so you feel confident and informed before we get started. We perform technically advanced procedures to achieve the best possible results for our patients.
When you decide to learn more about breast augmentation we'll happily find you the right implant for you and support you until you're healed completely and in love with your results.
To schedule your appointment for a breast augmentation consultation and find out which type of procedure is right for you call 301-215-5955 or click here.