If you're looking for a way to reduce fat without causing saggy, unwanted skin- BodyTite in Washington, DC may be your answer.
BodyTite is the newest, minimally invasive procedure that shapes, lifts, and tightens your skin without the recovery time of traditional liposuction.
BodyTite is an FDA approved procedure that helps contour your body by targeting problem areas that have not been responsive to diet and exercise. It simultaneously tightens loose skin that may be a result from weight loss, pregnancy, or aging.
BodyTite is powered by radio-frequency aided lipolysis (RFAL) for three-dimensional remodeling and contouring. RFAL melts and removes excess fat through a tiny incision made in an inconspicuous location. Learn more about BodyTite from The American Society of Plastic Surgeons.
BodyTite can be used on the following areas: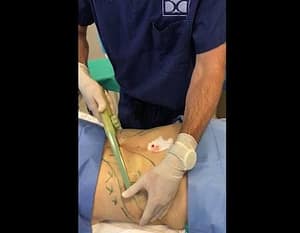 Abdomen
Hips
Buttocks
Thighs
Arms
Back
The BodyTite Procedure
Our expert plastic surgeons will work with you to determine if BodyTite is the right choice for you in order to meet your specific goals, or if the procedure can be used in conjunction with liposuction to meet your needs. The procedure only takes about one to three hours and is an in-office procedure.
Patients typically have minor soreness that only lasts one to two days before being able to return to their normal activities. Results are noticeable in just a few days and continue to improve for several months as the skin continues to tighten post procedure and any swelling subsides.
An ideal candidate for this procedure has specific goals in mind for targeting areas on the body which have not been responsive to other weight loss efforts such as diet and exercise.
Choose Bruno | Brown for Your BodyTite Procedure in Washington, DC
If you have been thinking about getting BodyTite, make sure to choose a plastic surgeon you can trust. The knowledge and experience of your plastic surgeon translates directly into the quality of your results. The doctors at Bruno | Brown Plastic Surgery will be with you through every step of the process- from the initial consultation to recovery.
Contact us today to schedule your DC BodyTite procedure or consultation.