Liposuction has become an increasingly popular procedure in recent years, and not just among women. As societal attitudes towards body image and self-care evolve, more men are seeking to enhance their physique and achieve a sculpted appearance. This blog will tell you everything you need to know about male liposuction in Washington DC.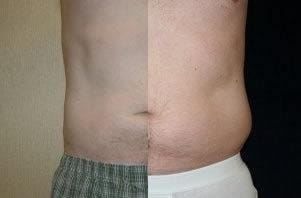 Liposuction is a surgical procedure where fat is removed through suction when using a cannula, a thin metal tube. It has a relatively short recovery time, making it appealing to clients. Male liposuction tends to differ from female liposuction due to the difference in targeted areas. To achieve a more masculine contour, targeted areas could include the abdomen, chest (gynecomastia), love handles, back, and neck. This aims to provide a slimmer appearance and improve muscle definition, helping men reach the physique they desire.
What is the process for male liposuction?
To determine if male liposuction is a good idea for you, schedule a consultation with us. The procedure takes 1-4 hours, depending on the targeted areas, is performed under general anesthesia, requires no overnight hospital stay, and requires 3-5 days for recovery. Clients can return to basic movement after the first week and can incorporate more strenuous activity in the second and third weeks, given the doctor's permission. The final results will show within 1-3 months post-op.
When weighing out your options, male liposuction has many benefits, which include but aren't limited to:
Enhanced masculine contours: Liposuction can help accentuate your natural masculine features by sculpting a more defined and athletic appearance. It can create a flatter stomach, slim love handles, and highlight your muscle definition which can result in increased self-confidence.
Improved body proportions: Male liposuction can restore balance and symmetry to your body by reducing fat in specific areas. This procedure can help you achieve a more proportionate physique, improving the overall aesthetics of your body.
Long-lasting results: Once the targeted fat cells are removed, they do not regenerate. This means that the results of male liposuction can be long-lasting, especially when combined with a regular exercise routine and healthy lifestyle.
Increased self-confidence: By achieving a more sculpted appearance, many men experience a significant boost in self-confidence. Feeling comfortable and confident in your own skin can positively impact various aspects of your life.
Why you should trust Bruno | Brown Plastic Surgery with your male liposuction in Washington DC
At Bruno | Brown Plastic Surgery, we are passionate about delivering results for our patients. Here are some reasons why we should be your go-to destination for male liposuction:
We have extensive expertise and experience
We craft customized treatment plans to meet your specific needs and goals
We utilize the most cutting-edge techniques with the latest advancements in liposuction procedures
We emphasize a patient-centric approach in order to prioritize your satisfaction
Interested in learning more about what male liposuction can do for you? Schedule your consultation today