Are you unhappy with the shape of your nose but hesitant to undergo invasive surgery? A non-surgical nose job, also known as "liquid rhinoplasty," might be the solution you've been searching for to achieve your the desired nose shape. In this comprehensive guide, we'll explore everything you need to know about this minimally invasive procedure.
A non-surgical nose job is a minimally invasive procedure that targets the reshaping of your nose. Using dermal filler injections to correct a bump or angle of your nose.
Check out Dr. Brown performing a non-surgical nose job!
A non-surgical nose job can correct a variety of issues, including: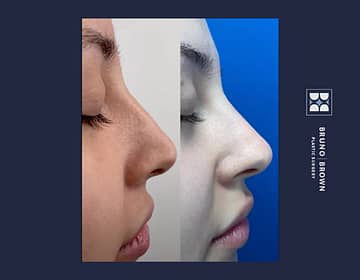 Correcting bumps or indentations on the bridge of the nose
Lifting the tip of the nose
Smoothing out irregularities on the nose
Straightening the appearance of the nose
Increasing the height or projection of the nose
If you broke your nose playing basketball in middle school and you've always wanted to see what it would be like to have a different nose shape, but you aren't quite ready for a surgical rhinoplasty, the non-surgical nose job is for you!
How Long Do The Results Last?
Results vary but usually last but somewhere between 6 to 12 months. Think of it like Botox for your nose; if you want to keep up that appearance without surgery, you will have to continue to get injections.
Before getting a non-surgical nose job, have a consultation with your doctor to ask how long your nose job will last.
What Are The Risks And Side Effects?
You should expect to have some bruising and swelling for the 2 to 4 days after your injections.
In terms of risks and side effects, some common side effects are:
Increased redness and swelling
Blurred vision
Infection
Even though there are risks, as long as you have a professional and experienced doctor, the risks are lower.
A non-surgical nose job may be a good option if you're looking for a quick and easy way to enhance the appearance of your nose without surgery. However, it's important to consult with a qualified plastic surgeon to determine if this procedure is right for you.
At Bruno | Brown Plastic Surgery, our experienced and knowledgeable team can help you achieve the nose you desire. Contact us today to schedule a consultation and learn more about non-surgical nose jobs.