Choosing Bruno | Brown Plastic Surgery For Your DC Facials and Skin Care
Having a thorough skin care routine is a trend that's been taking the world by storm. Caring for your skin is an integral part of anyone's daily routine and it's important to take time to curate a process for your skin. There are so many ways to keep your skin looking healthy at home, but nothing can compare to having a professional facial or skin care treatment done.
Bruno | Brown Plastic Surgery offers exceptional care and treatment and ensures that every patient leaves with even more beautiful skin than they came in with.
Why Should I Get a Professional DC Facial and Skin Care Treatments?
It is crucial to have a daily skin care routine at home, but it is also important that you get treatments done regularly by a skin care professional, like those at Bruno | Brown Plastic Surgery.
Professional facials and skin care treatments are able to penetrate deeper into the skin than at-home cleansers can. This allows experts to completely remove build-up deep within your pores that you otherwise can't reach. To get your skin to be healthy and have a natural glow, you must combine both at-home and professional treatments.
Customized DC Facial and Skin Care Treatment Designed for You
The first step to receiving a facial or skin care treatment is to have a consultation with skin care professionals. A consultation at Bruno | Brown Plastic Surgery will include outlining a comprehensive plan for both your at-home and in-office skin care regimen based on your goals and needs for your skin.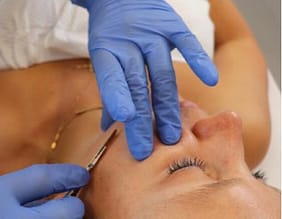 Bruno | Brown Plastic Surgery takes the time to carefully evaluate your skin and listen to all of your concerns. Before we begin with any treatment plan, we will go over the combination of procedures and treatments that we feel will benefit you most, so you feel confident and informed about your new skincare treatment plan.
What DC Facial and Skin Care Treatments Does Bruno | Bruno Plastic Surgery Offer?
Bruno | Brown Plastic Surgery offers a wide range of facial treatments to fit the needs of all our patients. This includes:
Intense Pulsed Light Treatment (IPL)
Micro-Needling (w/PRP)
Skin Care Products
The Benefits of a HydraFacial
The HydraFacial is an incredibly relaxing and gentle treatment that is perfect for all ages and skin types. It uses a Vortex-Fusion delivery system to exfoliate, extract, and hydrate your skin in just 60 minutes!
The HydraFacial also has a wide range of benefits for your skin including:
Reducing fine lines and wrinkles
Improving skin elasticity and firmness
Evening skin tone and vibrancy
Reducing the appearance of sun and age spots
Improving skin texture
Reducing the size of pores
Cleansing oily and congested skin
Below is a video of a HydraFacial Treatment being done; just one of the many professional skin care services we offer!
To continue your skincare journey, please call our office at (301) 215-5955 or click here to schedule your DC facial and skin care consultation with us!