From your initial consultation until your healing process ends, Bruno | Brown Plastic Surgery is here to help you with your Washington, DC breast augmentation surgery every step of the way.
Consultation: Having a consultation before undergoing breast augmentation surgery is crucial to getting the results that you want. Our board-certified DC plastic surgeons are specialists in ensuring that patients achieve their desired appearance goals in a safe manner. A consultation can also help you, and your doctors chose which procedure is ultimately the right choice for you and your body.
Preparing for the Procedure: In preparation for the DC breast augmentation procedure, your doctor will conduct a comprehensive health assessment, prepare and explain to you the procedure and post-procedure care, and answer any questions you may have before going into surgery.
After the Procedure: Following the procedure, patients are discharged. Discharge occurs on the same day as the breast augmentation procedure was conducted because the recovery period of this surgery requires rest to recuperate. Based on your specific surgery needs, your DC area plastic surgeon will discuss specific post-procedure steps to follow.
How Long Does a Breast Augmentation Take and What is the Recovery Period Like?
Typically, a breast augmentation procedure usually takes between 1-2 hours, and there is no overnight hospital stay required. Additionally, the recovery period for surgery can take between 1-2 weeks. However, everyone's needs and surgical care can vary.
One question we frequently get is, "What size implants do I need?".
The first thing that is crucial for our Washington, DC breast augmentation candidates to consider when choosing a breast implant size is that bra cup sizes vary wildly, and these measurements aren't an exact science.
In fact, breast implants are measured by exact volume in cubic centimeters (cc's), so while a cup size might provide an estimate of the breast size you are trying to achieve, it will not help you choose an exact breast implant size. Depending on the size of the bra band, 125-150cc will increase the volume of the breast by one cup size.
Saline vs Silicone Breast Implants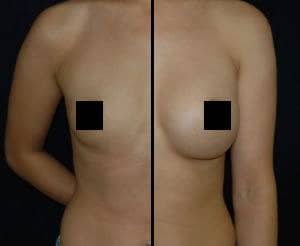 There is a slight difference in available sizes for silicone and saline breast implants, but in general, implant volumes range from about 120cc to 800cc. In addition to lifestyle and aesthetics, it is also important to keep in mind your skin elasticity. This way, if you are prone to stretch marks, your augmentation results won't put more stress than necessary on the skin.
In addition to different volume sizes, breast implants also come in five different profile projections:
Low
Low plus
Moderate
Full
Extra full
The implant profile affects the projection of your breast implants because, although they are not directly related to the implant size, they can affect how large or natural your breasts appear.
Best Breast Augmentation Surgeons in Washington, DC
I did a lot of research, and had multiple consults before ultimately choosing to move forward with my breast augmentation with Dr. Bruno. Of the multiple plastic surgeons I vetted, Bruno/Brown was by far the most articulate, thorough, professional and kind clinics. With any plastic surgery/operation, there is always a level of anxiety, because it is a big life decision, but they were able to put me at ease throughout the entire process. Their follow through has been equally impressive – Dr. Bruno called me the evening of my surgery to check on me, and his office called me the following morning to check on me as well. I cannot say enough good things about them, and would recommend them 10X over. – Ashley S., Google Review
Bruno | Brown Plastic Surgery offers high-quality and safe care to our patients. Our board-certified plastic surgeons have decades of experience and are committed to getting you the surgical results you desire. Seeing a doctor that is professionally trained with surgical experience is vital to ensuring that your surgery will go well. If you are looking to have a breast augmentation in Washington DC, Bruno | Brown Plastic Surgery is right for you!
Call Bruno | Brown Plastic Surgery at (301) 215-5955 or schedule a Washington, DC breast augmentation consultation.