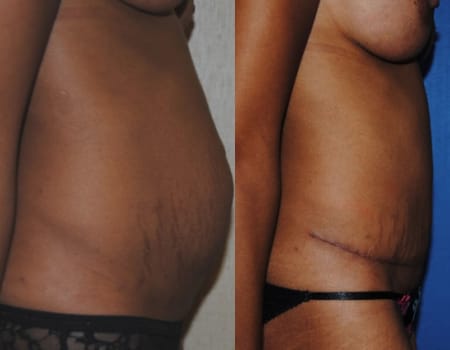 Having a child can be one of the most rewarding things in life, but it can certainly take a toll on your body. You may have less time for exercise and maintaining a proper diet can be tricky when balancing your job as a mother. If you're unhappy with your body after baby, a mommy makeover can be a great solution and give you back your confidence.
Pregnancy and breastfeeding can change your body entirely. Even with diet and exercise, it's hard to return to your pre-baby body. If you've been left feeling less confident in your skin and want to get back to where you were, a mommy makeover may be the answer.
Some benefits of the mommy makeover procedure include:
The removal of excess skin: After giving birth, or any sort of weight loss, you can be left with excess skin that just won't go away. We can remove excess skin, tightening your abdomen, and give you a flatter looking stomach.
Breast enhancement: You may have noticed that breastfeeding or pregnancy has left your breasts slightly deflated and sagging. We can give your breasts a lift and even add implants if you choose.
Stretch mark reduction: Your skin stretches over the course of your pregnancy and can leave behind stretch marks. We can reduce the appearance of stretch marks during your procedure.
Boosted confidence: Getting back your pre-baby body can be a huge boost of confidence and self-image.
We'll customize the procedure to fit your specific needs and goals. The mommy makeover typically involves a tummy tuck, liposuction, breast enhancement, and breast lift. You can choose the procedures that you want and opt-out of the ones you don't.
Your doctor will discuss your expectations and goals for the procedure to figure out what's best for you. Your recovery will likely be around 2-3 weeks, so you can get back to your routine as soon as possible.
You'll want a doctor who:
Values your safety above all else
Can perform technically advanced procedures
Will provide top-tier results
Will explain the procedure to you and set your expectations properly
The doctors at Bruno | Brown Plastic Surgery will do all this and more. We will discuss any concerns you have about the process and ensure you're 100% comfortable with the procedure. We'll advise you on how to maintain your new body following surgery and support you through your recovery.