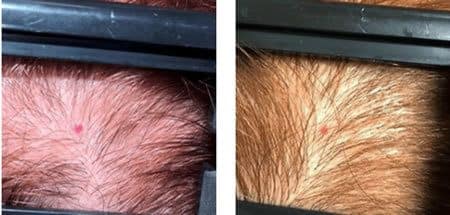 Men aren't the only ones who suffer from hair loss, it's an issue for women too. If you suffer from hair loss or thinning, PRP treatment could be right for you.
What is Involved in PRP Hair Loss Treatment in DC?
Plasma is a component of your blood that contains special "factors," or proteins, that help your blood to clot. It also contains proteins that support cell growth. Researchers have produced PRP by isolating plasma from blood and concentrating it.*
PRP is extracted by drawing a small amount of your own blood and, using a centrifuge, separated from the red blood cells. PRP also contains white blood cells and platelets, which have high growth factors which can help stimulate hair follicle activity and promote new hair growth.
Multiple injections, too small to be visible, are then made to the scalp allowing the PRP to be absorbed and treat the affected area. Because the process uses your own blood, PRP for hair loss is an extremely safe procedure.
One Celebrity's Experience with PRP Treatment for Hair Loss
Reality TV personality Vicky Pattison, best known from the MTV show Geordie Shore, documented her experience with PRP treatment for her hair loss on her Instagram.
According to OK Magazine Vicky "revealed she believes she suffers from traction alopecia and has undergone PRP therapy to combat her hair loss." The magazine shares, "The 30-year-old beauty has claimed she has "abused" her hair over the years by having hair extensions, experimenting with different hair colours, and stress – although she also believes her bald patches and hair thinning is 'traction alopecia', which is caused by using force when styling the hair tightly."
We recommend 5 to 6 PRP treatments to achieve the best results for your hair loss. This treatment can also work well as a preventative measure to stifle hair loss. For maximum results, treatment on those whose hair loss is recent works best. It can be more challenging to stimulate hair follicles that have been dormant for a long time.
Make sure to choose an experienced, board-certified plastic surgeon for your PRP hair loss injection treatment. The doctors of Bruno | Brown Plastic Surgery take a holistic approach to this procedure to help you achieve the best results.
We look forward to hearing from you!