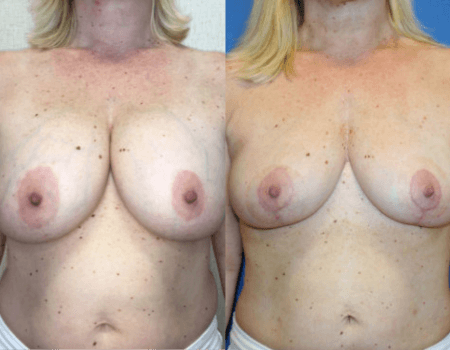 A breast reduction is a relatively common procedure that many women have chosen to improve their health and happiness. The procedure is meant for those who suffer from back and shoulder pain due to large breasts, discomfort and unhappiness with their large breasts, and those who suffer from limited physical activity due to the size of their breasts. While the procedure is common, there are several benefits you should consider if you're curious about the procedure.
Improved appearance of the breasts– We aim to not only decrease the size of your breasts but also leave you with breasts you're happy with.
Reduction in pain– The procedure can decrease or eliminate your back and neck pain caused by overdeveloped breasts.
Increased physical activity– Many patients are unable to participate in physical activities, such as running, due to how large their breasts are. Following the procedure, you may experience increased mobility.
Improved self-confidence– Most patients feel more confident in their skin once their breasts are appropriately sized to their body and even have an easier time finding clothing.
The procedure may be covered by insurance– depending on your insurance provider and reasons for wanting the procedure, your breast reduction may be covered by your insurance.
Our primary goal for any procedure is to improve our patients' happiness and quality of life whether that be solely through a transformation in outward appearance, or a procedure that truly improves their health. When you come to us for a breast reduction consultation we'll discuss your goals, why you want the procedure, and if the procedure is right for you. We'll go through the benefits and what you can expect before, during, and after the procedure is complete.
We aim to make our patients feel comfortable and confident throughout recovery. We perform technically advanced procedures to provide the best possible results for our patients and will answer any questions you have throughout the entire process.
To schedule a consultation with one of our experienced plastic surgeons and learn if a breast reduction in Tysons Corner is right for you call 301-215-5955 or click here.