You've done the workouts. You've done the dieting. You've lost the weight. But you just can't seem to get rid of that annoying tummy fat and skin. You're not alone; your body has done all the work it can do and just needs a little help. Abdominoplasties, also known as tummy tucks, remove excess skin and fat from your abdomen and waistline in order to achieve a more tightened and toned look. Tummy tucks give you the nudge you need to cross the finish line to achieve your desired body.
What Is a Tummy Tuck and Is It Right For Me?
This process begins with a consultation where you will talk to our board-certified doctors, Dr. Bruno and Dr. Brown, about your overall lifestyle and activity levels, what you want to achieve with the procedure, the amount of excess skin or fat that will be removed, the type of incision, and other inquiries you may have. We understand every body is different and therefore requires different approaches; that's why we value taking the time to learn about you and what would work best for your specific case. From there, it can be determined if you are a good candidate for the procedure.
Good candidates for a tummy tuck: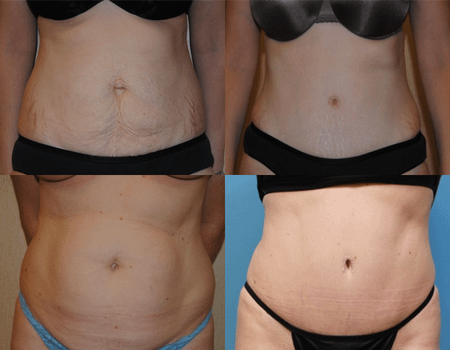 are women who would like to restore their pre-pregnancy bodies
have recently lost a significant amount of weight
are in good general health
are near their ideal weight or figure
have realistic expectations for their results
have excess skin or fat in the stomach region
There are several types of tummy tuck surgeries: full, mini, and extended. The difference between these is the amount of excess fat/skin involved and how large your incision will be. Our doctors will give you an overview of the procedure so you will know what to expect; surgery time is typically between two to four hours, tummy tuck recovery time is usually between two to three weeks, and there is no overnight hospital stay required.
The benefits of this procedure can include:
flattening the stomach area
improving the appearance of abdominal muscles
reducing the size of the waistline and hipline
enhancing your overall figure
tightening the stomach muscles
removal of excess, loose, or hanging skin, which may be the result of weight loss or pregnancy
reduced appearance of stretch marks, particularly after pregnancy
Tummy tucks can also be combined with other procedures such as liposuction or mommy makeovers. Liposuction can be used when there are small areas of fat that won't go away despite your best efforts. A thin metal tube uses a suction method to remove these areas in the least invasive way possible, making your recovery time faster. Mommy makeovers are a combination of many procedures including a tummy tuck, breast augmentation or reduction, sculpting, and more. Together these procedures help restore your pre-pregnancy body and boost your confidence. Overall, the tummy tuck is a great procedure to have done alone or accompanied with other procedures.
Visit our website to schedule your tummy tuck Bethesda consultation today!