Liposuction, also called 'Lipo' is a procedure in which fat is removed from the body to slim and reshape specific areas. Patients often have many questions about the procedure, and it's extremely important to meet with a board-certified surgeon to understand everything about liposuction before going through the process.
Choosing the right plastic surgeon for your liposuction procedure is incredibly important. Dr. Bruno and Dr. Brown are board-certified plastic surgeons in Bethesda with decades of plastic surgery experience. From your consultation to post-operative care, Drs. Bruno and Brown will provide you with professional care to meet all of your needs.
As a patient, you want to go into surgery with confidence that your doctor is both knowledgeable about the procedure you are getting and cautious when operating. The doctors at Bruno | Brown Plastic Surgery are committed to performing procedures with the highest safety standards in mind while simultaneously meeting the previously discussed desires of each patient.
Do You Need a Liposuction Consultation?
During a consultation, our doctors will discuss your desired plastic surgery outcomes to determine which technique will help you see the results you are looking for.
The first liposuction technique is traditional tumescent liposuction. This uses a thin and hollow tube to loosen excess fat by a back-and-forth movement, which is then removed from the body. The second technique is power-assisted liposuction. This technique uses a device that produces rapid, small vibrations to break up the fat before it can ultimately be taken out of the body.
The average liposuction recovery and procedure times can vary based on a patient's individual care. However, a liposuction surgery typically lasts about 1 to 4 hours, and recovery is about 3 to 5 days with no overnight hospitalization required.
Below is a video of Dr. Bruno answering some of his patient's frequently asked questions about getting liposuction done. Take a look!
What are the Different Areas Liposuction Can Treat?
Liposuction can be completed in multiple areas such as: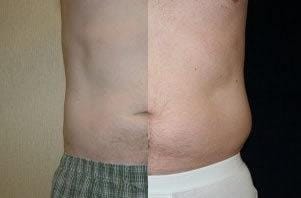 Abdomen
Ankles
Arms
Buttocks
Cheeks
Chin
Hips
Knees
Neck
Thighs
Waist
During your consultation, Bruno | Brown's doctors can help you to determine which area of your body liposuction would be best for you. Patients often want to combine several different areas to get the results and body contouring they desire.
If you are in need of a Bethesda liposuction procedure, please call Bruno | Brown Plastic Surgery at (301) 215-5955 or schedule a liposuction consultation.