Children can be a wonderful blessing. However, they may also be the cause of saggy breasts, lax abdominal muscles, and an overall body shape that feels less than desirable. If this is something you've experienced, you may want to consider a mommy makeover with our top DC plastic surgeons. A mommy makeover can restore your body to its pre-baby glory by lifting breasts, shrinking your waistline, and more.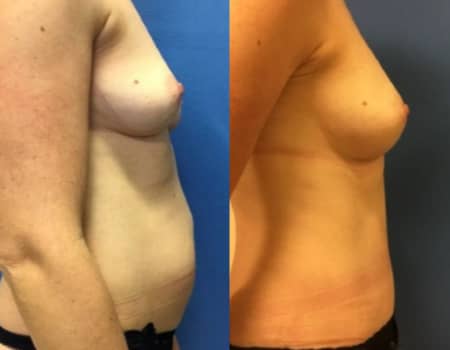 Our Washington DC area surgeons offer the mommy makeover to rejuvenate your body and restore your pre-pregnancy figure. This is a highly sought-after cosmetic surgery that aims to reverse some undesirable physical effects of childbearing through a combo of aesthetic goals.
During your consultation with our DC area board-certified plastic surgeons, you will discuss if you are a good candidate for the procedure, along with:
The rejuvenation of the abdomen
Liposuction
Breast lifts
Breast enhancement
Lifestyle and activity levels
Body contouring techniques
Mommy makeovers can include a combination of procedures, and a candidate for a mommy makeover should be:
Patients that are not breastfeeding
Close to their ideal body weight
At least four to six months post-childbirth
If you've decided it is the right time for you to consider a mommy makeover, we want to ensure you are also a candidate. You can ask any questions you may have about your procedure during your consultation with our board-certified plastic surgeons.
Our practice understands that being a mother is a full-time job. We know it can be hard to put a pause on life for life-changing surgery.
The mommy makeover has a relatively short recovery time of 2-3 weeks. We try to get you back on your feet as soon as possible following the procedure. However, every person will heal differently during the recovery period, as every patient and every mommy makeover procedure will be different!
The top plastic surgeons at Bruno | Brown have decades of experience performing safe and effective procedures. Risks associated with surgery are greatly minimized when you choose a qualified plastic surgeon whose number one priority is your safety and satisfaction.
Benefits Of A Mommy Makeover Surgery
Everyone's treatment plan will be different for a mommy makeover. This is because the procedures you select will change depending on your personal goals and lifestyle factors that are unique to you.
Mommy makeovers can include any number of the following:
Additionally, you might want to address facial features that might have been affected by motherhood, such as Botox, a facelift, and more.
Dr. Brown is the most kind, approachable and skilled doctor I've ever been under the care of. And I couldn't be happier with the results. The results were above and beyond what I hoped for and it is such a pleasure to shop for clothes now and wear a bikini with confidence. There is no reason to go anywhere else.

-Google Review
Contact our plastic surgery office to schedule a consultation for your Mommy Makeover, DC.