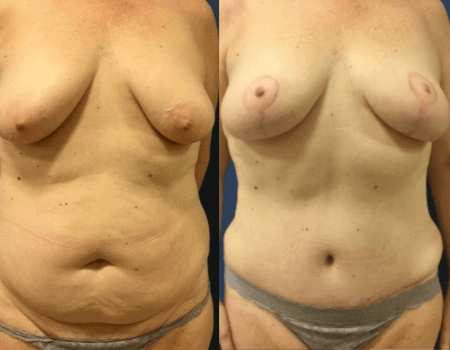 Many women experience changes in their body following pregnancy. For some, pregnancy can leave excess skin on the stomach and sagging of the breasts which can leave mothers feeling less than in control of their body. While diet and exercise can help restore your pre-pregnancy look a mommy makeover can help you achieve the trim look you desire.
Your mommy makeover can be tailored to fit your specific needs and target your specific problem areas. Typically a mommy makeover involves a tummy tuck, breast enhancement, breast lift, and liposuction but some women wish to target just their breasts or tummy. During your consultation, we can discuss your goals and how to best achieve them as well as what combination of procedures may be right for you.
Removal of excess skin– Many women suffer from excess skin following pregnancy.
Enhanced breasts– Some women's breasts sag following pregnancy and breastfeeding which can make them appear deflated. We can help you get the breasts you want with a breast lift, augmentation, or a combination of the two.
Reduction in stretch marks– The mommy makeover procedure can help reduce the appearance of stretch marks due to pregnancy.
Trim appearance– Patients experience a more trim figure following the mommy makeover due to liposuction, a tummy tuck, or both.
It's important to find a doctor you trust and who will not only aim to help you achieve your body goals but also recommend what is best for you. The doctors at Bruno | Brown value patient safety above all else. We aim to give our patients the best possible result for them and perform technically advanced procedures. We'll discuss your goals, make recommendations, and support you throughout the entire process.
To schedule your consultation with the doctors at Bruno | Brown Plastic Surgery for your DC Mommy makeover call 301-215-5955 or click here.