Bruno | Brown Plastic Surgery has been among some of the best and well-known plastic surgery practices in the Washington D.C. Metro area. Dr. Bruno and Dr. Brown are accredited, have been voted top plastic surgeons in several publications in the DMV, and strive to provide top-quality care and expertise for all of their patients.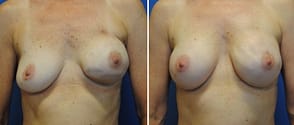 If you are interested in looking for medical facilities close to your home in Maryland, Washington D.C., or Virginia, Bruno | Brown Plastic Surgery has several locations to assist their patients. The Bruno | Brown Plastic Surgery practice has three conveniently located offices within Chevy Chase, Maryland, Tysons Corner, Virginia, and Glen Burnie, Maryland.
When visiting our Chevy Chase location, just outside Washington D.C., you may notice our top-of-the-line operating room. This location is accompanied by our private cosmetic surgery rooms, calm office setting, and board-certified anesthesiologists.
In addition to our office services, the doctors at Bruno | Brown Plastic Surgery have privileges at several reputable and accredited hospital facilities in the area and are board-certified plastic surgeons. These facilities can include, INOVA Fairfax, Loudoun, Sibley Memorial Hospital, Suburban Hospital, Baltimore Washington Medical Center, and Fair Oaks Hospitals.
The medical practice Bruno | Brown Plastic Surgery works hard to provide various services ranging from surgical to non-surgical and skincare procedures.
The procedures can range from reconstruction, body-focused, face-focused, and or skin-related services. For example, these can include services such as:
Breast Augmentations
Breast Reconstructions
Tummy Tucks
Mommy Makeovers
Male Breast Reconstruction
Liposuction
Brazilian Butt Lift
Botox
Chemical Peels
Breast Lifts
Microblading
Brow Lift
Face Lift
Rhinoplasty
Kybella Injection
AND MUCH MORE!
We encourage our patients to review our website and feel free to reach out regarding procedure questions, first steps, pricing, and much more.
It's important to feel you've selected the right surgeon for any plastic surgery procedure. You'll want a surgeon you're comfortable with who has the experience and proven results to help you safely achieve your goals. Our doctors are highly trained and perform technically advanced procedures to achieve the best possible results for our patients.
We'll take the time to listen to you and answer any questions you have before moving forward. Our dedicated team will be there to support you throughout your recovery and ensure you're completely satisfied with your results.
Among other accreditations, awards, and recognitions, Dr. Bruno and Dr. Brown were recognized as 'Top Plastic Surgeons' 2021 by Northern Virginia Magazine. In a survey of over 4,000 doctors and 7 hospitals, our very own Dr. Bruno and Dr. Brown were singled out for their prestigious medical work.
As two of the top plastic surgeons in Northern Virginia by Northern Virginia Magazine, the practice is continuously proud to represent our patients and community.
After going through and enduring breast cancer, survivors deserve to resume a normal, pre-diagnosis life. With breast reconstruction, procedures aim to help women reclaim and maintain their feminity by replacing or restoring one's breasts.
In addition, prior to locating to the Washington metropolitan region, Dr. Bruno served as a clinical assistant professor at The Ohio State University, teaching students and residents while performing a range of plastic and reconstructive surgical procedures.
Patients have expressed in their reviews:
"I was diagnosed with breast cancer in May of 2015 and chose to have a double mastectomy with breast reconstruction. My breast surgeon referred me to Dr. Brown of Bruno Brown Plastic Surgery in Chevy Chase, and after my first meeting with Dr. Coleman Brown, I knew I didn't need to look any further! His staff greeted me with smiles and made me feel very comfortable."

"I had a double mastectomy, received chemotherapy and radiation therapy and a year after had delayed breast reconstruction (Latissimus Dorsi flap) performed by Dr. Coleman Brown. I am extremely happy with the outcome and the way I look. I don't only recommend Dr. Brown because of how talented he is but, also for having an amazing bedside manner."
Finding the right plastic surgeon for your breast reconstruction procedure is critical. Our doctors have decades of experience making each and every patient feel beautiful and confident with the latest, most innovative practices.
At a glance for breast reconstructions:
Surgery time may be dependent on the type of reconstruction one has chosen
There may be a recovery time between 3-6 weeks
There may be a hospital stay between 0-4 days depending on the type of reconstruction
You can reach the Bruno | Brown practice to learn more about some of the top plastic surgeons in the DC area at (301) 215-5955 in Chevy Chase, MD, (703) 454-5544 in Tysons Corner, VA, and or (410) 762-4200 in Glen Burnie, MD.