Treat yourself to the best gift of them all: a mommy makeover in Washington, DC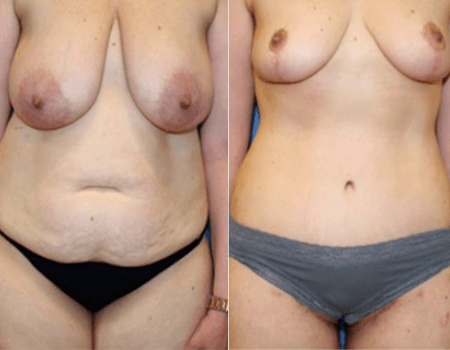 The season of giving includes giving to yourself. Whether you've had a baby or have loose skin from weight loss, a mommy makeover in DC is the perfect way to treat yourself. The mommy makeover procedure is a combination of procedures done together in order to restore your pre-pregnancy or pre-weight loss body.
You have reached our blog! If you're looking for mommy makeover before and after photos, please click here.
Our bodies can do incredible things, but sometimes see aesthetic changes as a result. As we age, stretch our skin, and move through different stages of our lives, our bodies change with us. Having children is a blessing, but they can also "bless" us with sagging breasts, loose skin, lax abdominal muscles, and an overall body shape that feels less than desirable. The procedures included in a mommy makeover could include:
Breast Lift: Removes excess skin and lifts the breast tissue to elevate the breast. Can be paired with breast augmentation or reduction.
Breast Augmentation: Breasts can lose volume during pregnancy or weight loss, so use of implants or fat grafting enhance the size, shape, and volume of the breast.
Breast Reduction: Breasts may grow, especially during pregnancy. Reducing the breast will relieve pain, enhance shape, and adjust size.
Tummy Tuck: Removes excess skin caused by stretched skin during pregnancy or weight loss. It also tightens the abdominal muscle, which can be severely affected during pregnancy.
Liposuction: Suctions unwanted fat from target areas. This fat can be reused for fat grafting.
or other body contouring and enhancing procedures discussed with your doctor.
What kind of tummy tuck should I get with my mommy makeover in DC?
Many patients opt to include the tummy tuck in their mommy makeover because it specifically focuses on restoring your abdomen, but you don't have to have a baby to have this done. DC tummy tucks are also common after significant weight loss. A tummy tuck, also known as abdominoplasty, addresses your problem areas by removing unwanted stubborn fat and tissue around the waistline and stomach.
There are various types of tummy tucks. Your doctor will discuss which tummy tuck will be right for you when you discuss your current situation and desired outcome.
Mini Tummy Tuck: Patients in need of only a small amount of excess fat and skin removed may only require a mini tummy tuck, requiring a smaller incision and less surgery time.
Regular Tummy Tuck: The most common tummy tuck ranges from hip to hip, removing excess fat and loose skin from an individual's entire abdominal area.
Extended Tummy Tuck: While this procedure is extremely similar to a regular tummy tuck, the targeted area extends beyond the hips, often including a liposuction contour within the desired area. Individuals who want to remove excess skin and fat in the lower back and hips may be recommended this procedure for best results.
Circumferential Tummy Tuck: A 360-degree tummy tuck removes excess skin and fat from the entire torso, generally most suitable for individuals who have faced significant weight loss, resulting in excess skin and fat in the abdomen, hips, and back.
What should I expect during a mommy makeover consultation?
Consultations with your doctor are especially important when it comes to mommy makeovers. Because every patient is different and the procedure involves various options, you and your doctor will need to discuss your current concerns, ideal goal, and possible options. Your doctor will help define your ideas with a plan that is specific to your situation. You will discuss the following during your consultation:
Rejuvenation of the abdomen
Liposuction
Breast lift
Breast enhancement
Body contouring techniques
Lifestyle and activity levels
Depending on your goals, some of these may apply, and some may not. It's important to have open communication with your plastic surgeon in order to ensure the best results.
Is there anything else I should know about getting a mommy makeover?
Listen to what Dr. Brown has to say in this complete mommy makeover guide.